UK renewable energy specialists Urban Wind are to launch a national education programme aimed at educating young about green energy.
One of the UK's leading renewable energy specialists is launching a national education programme aimed at informing the next generation about green energy - and dispelling some of the myths.

Schoolchildren across the UK will be offered a fascinating insight into the technology and its benefits by Urban Wind, which has been involved in more than 500 wind turbine projects across the UK.
It will take its expertise into classrooms and take pupils out into the field to see green energy generation in action.
The firm is currently working on a pilot scheme involving St Christopher's High School in Accrington, Lancashire, before rolling the project out across the UK.
It is currently collecting 'expressions of interest' from other schools who would like further information.
Schools that take part will get a valuable lesson in why the country needs alternative sources of energy and how the technology works.
They'll also be able to design their own alternative energy technologies as part of the project with the help of Urban Wind experts.
Urban Wind says the package it is putting together for schools will be of interest to young people studying a range of subjects, including science and geography, as well as having a fun element.
Phil McVan, Managing Director of Preston-based Urban Wind, said: "We are really keen to work with schools to develop an educational project that really teaches young people about the benefits and the need for renewable energy.
"Part of this process will be to dispel some of the myths about green energy.
"For example, when you talk about wind turbines many people automatically think of giant wind farms with 150-metre turbines.
"The reality is that many turbines are about a third of the size, are nothing to do with the major energy companies and are installed in ones and twos to help farmers and other businesses meet their energy needs.
"Our work with St Christopher's has shown that youngsters have a real interest in the subject and are keen to learn more about the technology and its benefits.
"We don't want to just stand in a classroom and talk. Our educational package will be interactive, challenging and fun. We want children to really get involved and explore what we do, why we do it, how it works and why it is important to them.
"We're looking not only to get into the classroom but to get children and teachers out into the field to see the technology working and to see how projects are developed and built.
"We believe renewable energy touches many subjects young people are studying, from economics to science and we hope teachers will help us develop links that are a real benefit to them in their classrooms.
"This is about educating the next generations about energy and how it affects their lives. We're also hoping to spark an interest in youngsters who will become the next generation of renewable energy engineers and technicians."
Urban Wind offers a complete, one-source management approach to renewable energy projects.
For more details about Urban Wind's education programme please contact info@urban-wind.co.uk
Featured Product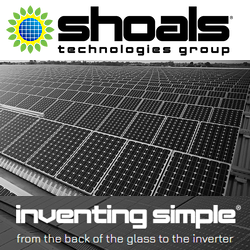 Inventing Simple® isn't just a slogan to us, it's a way of life. Using simple plug-and-play ideology, we revolutionized solar installations in 2003 with our Interconnect Systemâ"¢. Our harnessing system is now the gold standard EPC's use around the world. By using simple ideas, we are making solar energy a more affordable and clean power source for future generations.