– Recurrent Energy developed Kansas South and TA-High Desert generating stations to add 40 megawatts to the California power grid –
CARLSBAD, Calif.--NRG Energy, Inc. (NYSE: NRG), through its wholly owned subsidiary NRG Solar, today announced that two of the solar photovoltaic (PV) facilities the company acquired from Recurrent Energy earlier this year have reached commercial operation. The two California based solar PV facilities, totaling 40 megawatts (AC), deliver electricity to Southern California Edison (SCE) and Pacific Gas & Electric (PG&E).

"Credit goes to Recurrent Energy for developing assets of the quality that the Kansas South and TA-High Desert projects represent. This is our first transaction with Recurrent Energy and the beginning of what I hope will be a long lasting business relationship." said Tom Doyle, president and CEO of NRG Solar.
The two solar PV facilities are located in Lancaster, California and Kings County, California; each facility has a peak capacity of 20 megawatts (AC). The project in Lancaster reached commercial operation in March of this year and the Kings County project began operations this June. Recurrent Energy developed both projects, which will be owned and operated by NRG.
"NRG's investment in these projects is a clear demonstration of solar's ability to attract capital from well-established strategic investors," said Arno Harris, CEO of Recurrent Energy. "This agreement provides an example of the upward trajectory for the solar industry as a viable, mainstream part of our energy economy."
During their first year of operation, the projects are expected to generate enough clean solar power to offset the electricity use of roughly 11,800 average U.S. homes over a year at peak daytime capacity.
The two projects are part of eleven large-scale photovoltaic solar facilities owned by NRG that currently produce clean solar power for thousands of homes and businesses throughout three states. The other nine completed, or partially completed, plants are Agua Caliente (under construction) and Avra Valley in Arizona; Roadrunner in New Mexico; and Avenal, Blythe, Borrego, Alpine, Ivanpah (under construction) and California Valley Solar Ranch (under construction) in California.
About NRG and NRG Solar
NRG is at the forefront of changing how people think about and use energy. We deliver cleaner and smarter energy choices for our customers, backed by the nation's largest independent power generation portfolio of fossil fuel, nuclear, solar and wind facilities. A Fortune 500 company, NRG is challenging the U.S. energy industry by becoming the largest developer of solar power, building the first privately-funded electric vehicle charging infrastructure, and providing customers with the most advanced smart energy solutions to better manage their energy use. In addition to 47,000 megawatts of generation capacity, enough to supply nearly 40 million homes, our retail electricity providers – Reliant, Green Mountain Energy and Energy Plus – serve more than two million customers. More information is available at www.nrgenergy.com. Connect with NRG Energy on Facebook and follow us on Twitter @nrgenergy.
NRG Solar LLC, a subsidiary of NRG, has more than 2,000 MW of photovoltaic and solar thermal projects in operation, under construction or in development across the southwestern United States. More information is available at www.nrgsolar.com. Connect with NRG Energy on Facebook and follow us on Twitter @nrgsolar.com
Featured Product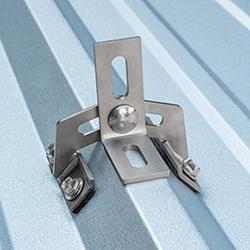 Error-Proof Compression: The QB2 doesn't leave any room for user error when it comes to Microflashing® compression. Once the Dual Drive Shoulder Screw is secured, the Microflashing® is compressed. Only 3 Components: The QB2 is comprised of Microflashing®, an L-foot and a Dual Drive Shoulder Screw. No more Nuts needed to tighten and secure the L-foot! Not only does this simplify the installation process, it also cuts down the installation time.