Now viewable on mobile devices such as smart phones and tablets
NEWBURYPORT, MA (July 15, 2013) - Mersen, formerly Ferraz Shawmut, recently published a new Protection Intelligence Quotient (PIQ) Quiz on determining bus bar cross-sectional area. This quiz, and all other Mersen PIQ quizzes, is now viewable on mobile devices such as smart phones and tablets.

Bus bars can improve reliability, increase capacitance, and eliminate wiring errors while at the same time reducing systems costs. A properly sized conductor will minimize temperature rise and also can be sized to ensure a desired voltage drop. This latest PIQ examines three different ways to determine bus bar cross-sectional area.
This is the latest quiz in an ongoing program that challenges participants to see if they're up to speed on the best practices in electrical safety and reliability. With the educational PIQ program, design engineers, specifiers, electrical professionals, and equipment manufacturers can discover how much they know about the hazards that can harm people, equipment, and investments. The quiz is available online. Participants may take the quiz and enter to win a $100 gift card. Three winners are selected every month, and no purchase is necessary.
"We are clearly filling a need for electrical protection and safety information," said Stephen Colvin, vice president of marketing at Mersen. "Many visitors take the latest quiz, and then move on to take earlier archived quizzes on topics such as arc flash hazard protection, overvoltage protection, and selective coordination." To review earlier quizzes and download the PIQ Quiz Notes visit our PIQ archive.
For further details on the PIQ Quiz program, please send a request to info.nby@mersen.com. The PIQ quiz program runs through December 31, 2013.
About Mersen
Mersen, formerly Ferraz Shawmut, is worldwide expert in high-performance materials for extreme environments and in the reliability and safety of electrical installations. Drawing on a century of experience—and an ongoing commitment to critical research in electrical safety— it provides industrial, commercial, and OEM customers with innovative products and unsurpassed technical support. The electrical and circuit protection division provides a comprehensive line of current-limiting fuses (low voltage, general purpose, medium voltage, semiconductor, miniature and glass, and special purpose) and accessories, fuse blocks and holders, power distribution blocks,
low voltage disconnect switches, surge protection, high power switches, laminated bus bar, heatsinks, and more.
Amp-Trap® High-Speed Class J (HSJ) fuses, TPMOV® Technology, and the SmartSpot® open-fuse indicator are a few of the company's latest innovations. For more information, call 978-462-6662 or visit http://ep-us.mersen.com.
Featured Product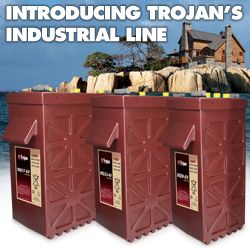 Trojan's deep-cycle batteries provide rugged durability, outstanding performance and long life for use in all types of solar energy installations. With over 90 years of experience, Trojan delivers the world's most reliable and trusted batteries in flooded, AGM, Gel, and Lithium types. These batteries enable solar equipment systems to operate at a peak level of performance in the harshest conditions or the most challenging of locations and are manufactured and tested to IEC standards.