A tripartite strategic cooperation agreement to develop solar power (distributed energy generation) in Fujian was signed. Clenergy plans to build distributed power generation systems totalling from 200MW to 400MW in Fujian in the near future, starting with small and medium scale projects this year.
Clenergy, the solar park solution provider, and CGN Solar Energy, China's leading solar power provider, formally signed a cooperation agreement to develop solar power in Fujian with the New Energy Industry Alliance (formerly the Haixi New Energy Industry Alliance). This took place at the Alliance's founding ceremony on June 18 with representatives from Fujian government organizations, industrial associations, industry firms and research institutions.

The Xiamen-based Alliance promotes the development of renewable energy in Fujian and serves its members by bringing together cutting-edge technologies, capital and market resources for the new energy industry.
Li Ning, the president of the Alliance and the president of the School of Energy Research at Xiamen University, said that distributed energy generation in Fujian demonstrates huge potential. He called particular attention to offshore wind energy developments and solar energy applications in agriculture and in the public buildings and facilities.
"With the strengths of Clenergy and CGN, both of which are strong in technical expertise and experienced in solar power projects, the tripartite cooperation will boost significantly Fujian's solar energy and industry chain developments," said Mr. Li.
Since Clenergy's establishment in 2007, "making renewable energy accessible and affordable" has been the company's mission statement. The tripartite strategic partnership in conjunction with the advantages of the Alliance will benefit Clenergy's operations in Fujian and in China.
Clenergy also announced that it plans to build distributed power generation systems totaling from 200MW to 400MW in Fujian in the near future, starting with small and medium scale projects this year.
About Clenergy:
Clenergy International is a leading Sino-Australian joint venture in the solar PV industry, providing high quality, versatile solar PV mounting products and solutions for commercial, residential and utility-scale customers. Headquartered in Xiamen, China, with branch offices in Australia, Germany, the United Kingdom, Japan and the United States, its inverters and power electronics equipment are supplied with full local technical and service support. An ISO 9001 accredited company, all Clenergy's products comply with international standards. By focusing on quality, innovation and service, Clenergy have been able to achieve rapid growth and build a strong international reputation. Clenergy maintains long-term strategic partnerships with many leading companies in the solar PV industry. Through its partners, Clenergy supplies products and solutions in more than 19 countries around the world. For more information, please visit http://www.clenergy.com/
Featured Product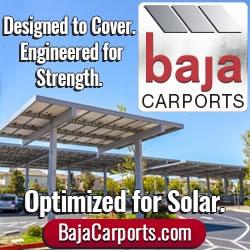 Baja Carports offers an extensive solar support system product line customized to customers' site specifications by in-house engineers, meeting their parking lot coverage, plus optimal PV production needs. Baja's Full Cantilever Tee is often paired with its Semi and Full Cantilever carports to meet live/loads up to 60psf and wind speeds to 160mph. All Baja products are pre-fabricated, bolted connections, pre-galvanized structural steel for fast on-site installation and project aesthetic requirements."