Revised planning guidance for solar farms are set to be announced by the government, giving local people more say on where solar farms can be located.
The government is set to issue revised planning guidance for renewables intended to give local communities more power over proposed developments.

The minister for energy and climate change, Greg Barker, said that the new guidelines will ensure that renewable projects do not "automatically override environmental protections and the planning concerns of local communities".
It appears that the revised planning guidelines have been pushed through in response to mounting criticism over the development of rural solar farms. For the first time, councils and local residents will be given the power to veto large solar farm developments in their local area.
In response to a question, which called for the minister to set out the practical steps he was taking to ensure the appropriate development of solar farms, Barker said: "Well-sited solar can be great and often is, but inappropriate developments risk alienating public support. That's why I am very pleased to say that, in the next few weeks, as a result of close work with DCLG, we will be releasing revised planning guidance for renewables that will mean renewable energy doesn't automatically override environmental protections and planning concerns of local communities."
"Greater clarity on this issue will help both the industry and local people," said Fraser Mackenzie, Director of Glasgow-based solar PV specialists Edison Energy. "Consensus on where solar farms can be situated and their relationship with local communities are absolutely critical for the sector to play its full role in helping to meet Britain's future energy needs.
The revised guidance on solar farms will also state that "care should be taken to preserve heritage assets, including the impact of planning proposals on views important to their setting". Mr. Barker wants to encourage solar panels on buildings, but avoid large arrays in areas of natural beauty.
"Solar farms are a key way of providing green energy to tackle Britain's growing security of supply crisis and help to meet stringent EU carbon reduction targets" said Mackenzie. "Any measures that enable solar schemes to better integrate with neighbourhoods are a positive step forward.
"However, we must also ensure that small numbers of 'nimbys' opposed to any type of solar developments are not allowed to hijack the benefits of solar energy for the wider community."
The move comes after plans were unveiled last month to give local communities the power to block wind farms. Ministers are set to announce that residents will have to be consulted over new wind farms, and an application can be barred if there is sufficient opposition to the proposal. Currently, national planning guidelines mean that councils are often forced to accept new wind farms, as they instruct that renewable energy schemes should generally be permitted.
Featured Product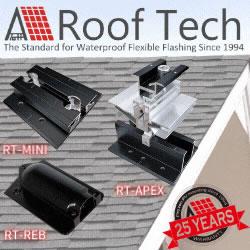 These ongoing webinars cover Roof Tech's background, product design (RT MINI and APEX), code and best practices. You will learn about a proven system that reduces installation time while keeping the integrity of the roofing system. This training will earn you one NABCEP Continuing Education Credit. The webinars are offered every Tuesday from 11 AM PDT to Noon during the months of April and May, 2020.