Sonali Solar outlined for Intersolar attendees how they ensure quality and consistency on all of their modules.
CLOSTER, N.J., July 16, 2013 -- Sonali Solar was excited to see such a great turnout last week at this year's Intersolar North America in San Francisco, CA. People from all over the country and world came through the convention to come meet the companies behind the modules. Sonali was thrilled with meeting with distributors and project developers who are putting modules on the ground every day. Professionals who stopped by the Sonali Solar booth were happy to hear about Sonali Solar's passion for producing a quality product, as well as their attention to customer satisfaction. With many companies producing modules and receiving international tariffs, companies were intrigued with Sonali Solar manufacturing in India, as well as their near future offering of ARRA compliant modules assembled in the US.

Sonali Solar outlined for Intersolar attendees how they ensure quality and consistency on all of their modules. By using a fully automated production line, every module is assembled piece by piece by computer automated equipment. Where many other manufacturers use human technicians for processes such as soldering, Sonali Solar uses robotic automation to guarantee that each module is produced with precision and accuracy. This process, in combination with their electroluminescence (EL) tester, produces a product that often exceeds estimated power production in the field, and provides the product longevity required for such equipment. The EL tester is used on each individual cell to make sure none are used in production that have micro-cracks, or any other blemishes that would be undetectable to the human eye. Modules are then run through the EL tester a second time, post-lamination, to ensure that there was no damage caused to the cells in that process.
With few module manufacturers at the convention producing out of India, many Intersolar guests were excited to hear about Sonali Solar manufacturing in Gujurat, India. Sonali Solar is able to avoid all international anti-dumping tariffs by not using any components that carry such a tax. In addition, Sonali Solar was able to spread the exciting news of their plans to shortly start assembling modules in their partner facility in Michigan. With many end customers looking for US products, Sonali Solar has received approval to expand their UL1703 approved module production for all their equipment coming out of Michigan. Sonali Solar learned a lot from the people attending the show, as well as many of the other exhibitors, and is eager to participate again next year.
For more information on how to place an order with Sonali Solar, contact Daniel Resnick at 212-906-1946 or by emailing Daniel@SonaliSolar.com and visiting their website at www.SonaliSolar.com
Featured Product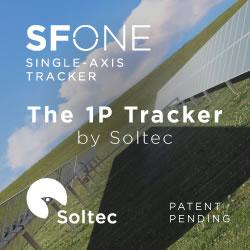 Soltec manufactures and supplies solar trackers designed and proven for extreme climate conditions, which is an ideal solution for any region's environment. Soltec's trackers are self-powered, requiring no additional PV module or grid-powered connection. Bifacial modules collect energy on both the front and rear sides, capturing reflected irradiance from the ground surface under and around the tracker and from other modules. Depending on site conditions, bifacial yield-gain can reach +30 percent.