John Baudendistel as Controller
Walnut Creek, CA – (Wednesday, July 17) Quick Mount PV, the industry standard in waterproof mounting systems for rooftop solar installations, announced today the appointment of John Baudendistel as Controller.

Baudendistel is a seasoned business executive with more than ten years' experience as a controller. He has served at the executive level for a number of distribution companies including Northstar Wireless, Worldcom Wireless, and GSC Logistics.
Most recently, Baudendistel created infrastructure for a fresh beverage distribution company, resulting in significant growth in revenues and margins.
"John's extensive history in logistics and financial reporting give him the experience Quick Mount PV needs for future growth," said Quick Mount PV co-founder and CEO Claudia Wentworth. "As Quick Mount PV continues to expand, his role in process improvements and precise handling of company assets will be of paramount importance."
"I'm excited to join the Quick Mount PV team and lend my expertise to helping the company achieve its financial goals and objectives," said Baudendistel. "It's great to be in the solar industry and have the opportunity to contribute to our clean energy future."
About Quick Mount PV
Quick Mount PV is the industry standard for 100% code-compliant, waterproof solar roof mounts. The company currently employs 75 people at its manufacturing facility and headquarters in Walnut Creek. As a pioneer of roofing industry best practices in the solar industry, Quick Mount PV is committed to perfecting the art of rooftop solar mounting through ongoing technological innovation and dedication to industry training and education. Visit www.quickmountpv.com for more information.
Featured Product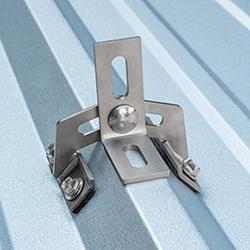 Error-Proof Compression: The QB2 doesn't leave any room for user error when it comes to Microflashing® compression. Once the Dual Drive Shoulder Screw is secured, the Microflashing® is compressed. Only 3 Components: The QB2 is comprised of Microflashing®, an L-foot and a Dual Drive Shoulder Screw. No more Nuts needed to tighten and secure the L-foot! Not only does this simplify the installation process, it also cuts down the installation time.