"DECK Residential" includes a cellular modem for quick and easy installation—at the lowest price point ever from DECK Monitoring!
The popular DECK solar monitoring solution is now available at a competitive price point for residential solar power projects. 

With DECK Residential, customers get the key benefits of the DECK Monitoring solution with just one device:  the I-210+c socket meter from GE. This meter includes a cellular modem, so the installer won't have to deal with communications wiring and IT connections. The DECK Residential package also comes with a 5-year data plan from Verizon Wireless Services, so customers can truly have a "plug and play" experience with installation and deployment. A full installation may be accomplished in as little as one hour!
DECK Residential is being offered at the lowest price point ever for DECK Monitoring. This low cost means that developers and installers for residential projects now have affordable access to the top quality customer service and display graphics that have won over the North American commercial market.
(In fact, surveys conducted by GreenTech Media have named DECK Monitoring as North America's leading independent commercial monitoring provider for two years in a row: most new sites monitored for both light and heavy commercial market segments.)
Each monitoring solution from DECK includes two web-based displays: the public-facing Dashboard, and the secure private Admin Panel. The Dashboard provides end users with a data readout for their solar power system that is attractive and easy to understand. The DECK Dashboard is ideal for screen savers, or for a kiosk display in a building lobby.
The DECK Admin Panel is intended for project developers. Registered Admin Panel users can see detailed analytic data for all monitored systems in one convenient web display. This helpful interface includes a suite of project management tools to assist with fleet deployments. These tools include useful portfolio overview displays, along with a logistics center to track hardware shipments. The Admin Panel also includes automated performance alarms that allow users to remotely monitor performance for an entire portfolio of solar power projects.
DECK Monitoring has also released a new socket meter solution for simple solar projects in the commercial market segment. This new product—"Commercial Light"—utilizes the kV2c socket meter from GE. It is intended for 3-phase electric systems under 200 amps in size. As with DECK Residential, Commercial Light comes with a cellular modem and a 5-year data plan from Verizon.
More information about DECK Monitoring is available on their website: http://www.deckmonitoring.com/.
Featured Product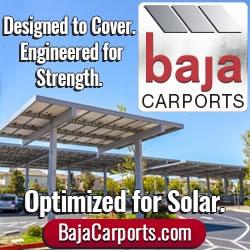 Baja Carports offers an extensive solar support system product line customized to customers' site specifications by in-house engineers, meeting their parking lot coverage, plus optimal PV production needs. Baja's Full Cantilever Tee is often paired with its Semi and Full Cantilever carports to meet live/loads up to 60psf and wind speeds to 160mph. All Baja products are pre-fabricated, bolted connections, pre-galvanized structural steel for fast on-site installation and project aesthetic requirements."