Attendees of the event voted for their favorite band.
San Francisco, CA (July 18, 2013) The third annual Solar Battle of the Bands, a solar industry party and musical competition presented by Quick Mount PV and Creotecc, took place Wednesday, July 10, during the 2013 Intersolar North America trade show. Attended by an enthusiastic crowd of 1200, the after-hours event at The Mezzanine featured bands formed entirely of employees of the participating solar companies. Attendees of the event voted for their favorite band.

After a reception hosted by lead sponsor Motech, the evening kicked off with Creotecc's Christie McCarthy singing her own composition "Rise And Shine." The Quick Mount PV house band "Northerner and the Rafters," led by event founder Johan Alfsen, followed with a rousing rendition of "Soul Man." Competing for the grand prize were bands from five solar companies: SMA America, Inovateus Solar, SolarCity, Sungevity, and Zep Solar.
Sungevity's band The Killa Watts, who closed out their performance with a groovy rendition of Rick James' "Give It To Me Baby," emerged as the victor when the votes were counted. Claiming second place were newcomers Rev. Ray & the Everlasting Incentives from Inovateus Solar, who closed with Young MC's "Bust A Move."
Solar Battle of the Bands was made possible by generous support from lead sponsor Motech, event sponsors SunEarth, Burndy, AEE Solar, SMA America, and Inovateus Solar, and media/nonprofit sponsors SolarPro, Solar Power World, Solar Energy International, and NABCEP.
To see video highlights and photos from the event, plus a complete list of all the bands and their members, visit www.solarbattleofthebands.com. Additional photos are available on the Solar Battle of the Bands Facebook page: www.facebook.com/SolarBattleoftheBands
About Solar Battle of the Bands
Solar Battle of the Bands is a unique industry event that brings the solar community together through a friendly competition of musicians. The annual event boasts a lineup of bands composed of musicians working in the solar industry from a variety of manufacturers, distributors and suppliers across the country.
www.solarbattleofthebands.com
About Quick Mount PV
Quick Mount PV manufactures code-compliant, waterproof mounts used to secure solar electric and solar hot water systems to rooftops. Founded in 2006, Quick Mount PV is the industry's leading manufacturer of solar roof mounts. Products are made in the USA.
www.quickmountpv.com
About Creotecc
Creotecc manufactures clampless solar mounting systems. A global manufacturer with over 1 GW installed worldwide, Creotecc specializes in ground mount systems for utility, commercial and residential applications. Products are Made in the USA.
www.creotecc.us
About Sungevity's "The Killa Watts"
Colleen George returned as lead vocalist from last year's event, accompanied by a powerful new vocalist, Kelcey Gavar. Other band members were, Chris Connolly, vocals; Andrew Adelman, drums; Jeff Cleland, bass; Joss Jaffe, guitar; Noah Ginsburg, keyboard; Felix Fernando, congas; Krystian Muroya, trumpet; Travis Richardson, alto sax; Wyatt Roy, tenor sax; Misha Balmer, bari sax; Stephanie Smith, flute; and, Sam Hernandez, trombone.
Featured Product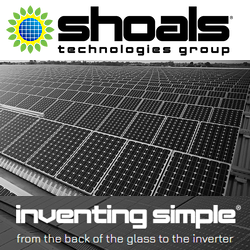 Inventing Simple® isn't just a slogan to us, it's a way of life. Using simple plug-and-play ideology, we revolutionized solar installations in 2003 with our Interconnect System™. Our harnessing system is now the gold standard EPC's use around the world. By using simple ideas, we are making solar energy a more affordable and clean power source for future generations.