An AIMS Power inverter runs Princeton's 'Power in a Box' – a humanitarian effort by the university's Engineering Projects in Community Service (EPICS) program – to help Bermuda Institute of Ocean Sciences (BIOS) this summer.
San Francisco, California July 22, 2013

A renewable energy system is only as strong as the power inverter it uses.
Princeton University students learned that concept early in the development of a portable wind and solar power system – "The Princeton Power in a Box" – which won a $90,000 grant at the Environmental Protection Agency's P3 National Sustainable Design EXPO for the 2012-13 academic year.
"We had another inverter for the previous system, not sure which one, but we purchased AIMS Power's 5 kilowatt 24 volt inverter specifically for our new version which uses 24 volts DC (direct current) throughout the entire system," said Princeton sophomore Jacqueline Li. "We've done a lot of testing with the inverter, and it performs really well."
The Princeton Power in a Box is the first system to ever fuse solar and wind energy into one portable system. Built as a tool for disaster relief in the aftermath of an earthquake in 2010 that crippled the country of Haiti, it's now in Bermuda helping BIOS power the Atlantis project.
The hybrid electrical system can generate about three kilowatts per day all from a standard 20-foot shipping container (so it can be sent anywhere in the world). It uses a 40-foot retractable wind turbine that deploys through the ceiling of the container and solar panels that fold out from each side.
An AIMS 5000 watt power inverter acts as the backbone of this system, transforming the DC electricity stored by the 24 volt battery bank into AC (alternating current) power that can be used to run computers and other technology used by Atlantis.
"There are a few things I think are great about this AIMS Power inverter: one is that you can connect to it in two different ways – a normal outlet so that's really convenient and terminals which make it easier for connecting more permanently," Li said. "It's also great that it has the battery voltage level display, shutting down when the batteries' charge is too low."
"All these things make sure the inverter will keep working and won't be destroyed if you make a mistake."
Students had full control over which products they used for the Power in a Box, but Catherine Peters, professor of civil and environmental engineering, is an adviser to the EPICS team.
The project has garnered plenty of attention from the locals of Bermuda, who wish to gain energy independence, as Li and her fellow students work to spread awareness of the effort.
Li says she decided to be a part of the project because she believes it has the potential to make a global impact.
"We're doing a lot of presentations to the local people in Bermuda, and we did many before in Princeton – to school students as well as organizations, like the BIOS people came to look at us and some students from their courses came, and you can actually see that everyone is interested," said Li, who is in Bermuda working for summer internship credit at Princeton. "People in Bermuda are interested in using this renewable power to supply their own energy so it's actually really making an impact – which feels great – and the fact that people like you also took notice and became interested enough to reach out is great too."
About AIMS Corp
AIMS has become a multimillion dollar company because of commitment to the inverter industry. Inverters will be sold worldwide regardless, but innovation combined with excellent customer service separates AIMS Power from the competition. Buying an inverter is almost never a cut-and-dry process so AIMS Power prides itself on being the most accessible company in the inverter industry when it comes to technical support and providing quality information to our customers via AIMS Power's communication platforms. Inverter users call and e-mail AIMS Power's technical support and customer service teams daily from all over the world with issues ranging from aftermarket boat upgrades to backup power systems during hurricane season, and they always reach a real person with a real commitment to solving their problem — no matter how big or small. To contact AIMS Corp, simply call (775)359-6703 or e-mail to sales(at)aimscorp(dot)net. Like us at Facebook.com/AIMSpowerInverters and follow us on Twitter @AIMSpower for more inverter information and AIMS Power promotions.
Featured Product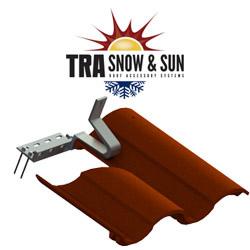 You haven't installed a tile mount that is easier to install than the Solar Tile Mount manufactured by TRA Snow and Sun. Solar Tile Mount is used on all tile roof profiles: flat, mid, and high. It is made in the USA of aluminum alloy for strength and excellent corrosion resistance. Solar Tile Mount is built to allow more ease in installation with more rise from the tile surface to the rail for better air flow below panels. The adjustable base is longer than most allowing attachment 6" to the left or right to have the bracket in the base of the pan of the tile and still fasten to the rafter. Solar Tile Mount is adjustable for counter batten systems from ¾" to 3". The horizontal rail is directly above base fasteners giving greater uplift resistance than any other system. For superior waterproofing apply TRA Snow and Sun's butyl backed VersaFlash aluminum flashing. No tile flashing is needed on top of the tile for greater labor and material cost savings.