Comprehensive Study Builds Foundation for Accurately Valuing Distributed Solar
Snowmass, Colo. July 22, 2013

Today, Rocky Mountain Institute (RMI) announced the release of a report from the Electricity Innovation Lab (e-Lab), entitled "A Review of Solar PV Benefit and Cost Studies." This robust discussion document provides a critical framework for understanding the benefits and costs that increasing levels of distributed solar photovoltaics (DPV) on the electricity grid offers utilities, customers and technology developers.
A review of 15 leading assessments exploring the economic value of DPVs, the eLab study offers a foundation for accurately assessing the costs and values of distributed solar that can support smart policymaking and electricity pricing structures across the country.
"As the penetration of distributed solar continues to grow, it is vital to see it as an integral, fundamental part of the electricity system and not just as a 'bolt-on' solution," said Lena Hansen, principal at RMI and co-author of the study. "Appropriately valuing solar PV and the other distributed energy services provided by every actor in the energy equation is part of this process of realignment."
The increasingly rapid adoption of distributed energy resources—primarily DPV—is driving a heated debate about whether they create net value for the electric system due to their unique siting, operational and ownership characteristics compared to conventional centralized resources. Yet, while methods for identifying, assessing and quantifying the benefits and costs of distributed resources are advancing rapidly, important gaps need to be addressed before these methods can provide an adequate foundation for policymakers and regulators engaged in determining levels of incentives, fees, and pricing structures.
"Understanding the costs and benefits of distributed generation is the most significant issue facing the energy industry in our generation," said Federal Energy Regulatory Commission Chairman Jon Wellinghoff. "Balancing the cost and benefit equation will determine whether consumers pay reasonable costs for new energy infrastructure development or pay for costs that may be unnecessary and wasteful."
Today, the wide variation in analysis and quantitative tools used by different parties in different jurisdictions is inconsistent, confusing and frequently lacks transparency. And, while individual regions must adapt approaches based on their local context, greater standardization of categories, definitions and methodologies is possible.
"Deciphering the costs and benefits of distributed energy services is critical to ensure better technical integration and economic optimization," said Virginia Lacy, RMI senior consultant and co-author of the study. "As the penetration of DPV and other customer-sited resources increases, accurate pricing and market signals can help align stakeholder goals, minimize total system cost, and maximize total net value."
About RMI
Rocky Mountain Institute is an independent, entrepreneurial, nonprofit think-and-do tank with offices in Snowmass and Boulder, Colorado. RMI emphasizes integrative design, advanced technologies, and mindful markets in fulfilling its mission to drive the efficient and restorative use of resources. RMI's strategic focus is to map and drive the U.S. transition from fossil fuels to efficiency and renewables by 2050. Please visit http://www.rmi.org for more information.
About eLab
The Electricity Innovation Lab (e-Lab) brings together thought leaders and decision makers from across the U.S. electricity sector to address critical institutional, regulatory, business, economic, and technical barriers to the economic deployment of distributed resources. A multi-year "change lab," e-Lab regularly convenes its members to identify, test, and spread practical solutions to the challenges inherent in these questions. e-Lab is a joint collaboration, not a consensus organization, convened by RMI, with participation from stakeholders across the electricity industry.
Featured Product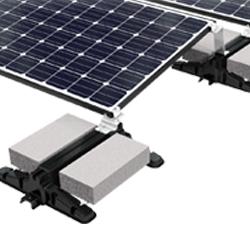 Preformed Line Products introduces the POWER MAX Ballasted Roof Mounting System. The POWER MAX solar mounting system is engineered to maximize energy output on commercial flat roofs. Developed with the professional installer in mind, this system offers adjustable inter-row spacing in the field of up to 11 inches. It features 50% fewer components and a simplified design resulting in faster assembly rates and labor savings on every project. Available in a flush mount, 5Ëš or 10Ëš tilt or higher density dual tilt design, the POWER MAX base arrives stacked on pallets providing easier transport to the roof. Engineered as a fully ballasted, non-penetrating system, it accepts standard concrete blocks and is qualified by wind tunnel testing.