1.4 kW solar generator with storage reinforces small-sized sun2live solutions
Zug. The meeco Group has recently added a new product innovation to its sun2live range of solar energy and storage solutions, called iKUBE. This mobile energy solution, manufactured by Italian experts Pro D3 s.r.l., is equipped with up to 1.4 Kilowatt power capacity and 400 Ampere-hour of storage capacity, completes the lower-output level of the sun2live solutions provided by the Swiss Group.

Its nine square meters of photovoltaic sail fold into a two cubic meter container mounted on wheels, which turns the iKUBE into an easy-to-transport off-grid (or even on grid) power source for small clinics, offices and houses, agricultural as well as other commercial operations, rural communities, lighting and other similar applications. The mobile solution is also available as an individual kit, which can be installed for a fixed use in custom tailored sizes and output / performance parameters.
After an initial test and trial phase of one year, The meeco Group engineering team helped Pro D3 optimize the iKUBE solution for markets with demanding climate conditions such as islands and windy territories, turning it into a more robust mobile energy solution. The newly revised product version will be distributed in every country where The meeco Group is currently active or where a major stake is held. After-sales will be assumed locally via all subsidiaries of the Swiss Group as well as its joint venture partners. The market entry price for the standard iKUBE F150 unit is of 8.000 Euro, prices for the kit version vary according to the power capacity delivered.
'The meeco Group has chosen the iKUBE as it is the natural link between the sun2go portable solutions and the sun2live product line and thereby completes the portfolio in the lower power category of the sun2live range,' explains Mr Dieter Trutschler, Sales Director of The meeco Group. 'Being an ingenuous 'Plug & Play' system, we expect this product to find a significant interest on the market today,' adds Trutschler.
About The meeco Group: The meeco Group was consolidated in 2000 and oriented its main focus towards the energy sector. With world headquarters located in Zug, Switzerland, the group currently has over 50 employees working across 4 continents. Thanks to a structured but flexible approach based on its core competencies, meeco has delivered over 320 MW of clean, renewable energy solutions across four continents. The meeco Group accomplishes its mission by providing project developers, investors, governments, and private businesses with the services necessary for timely financing, installation, and operation of clean energy assets.
For further information visit: info@meeco.net
Featured Product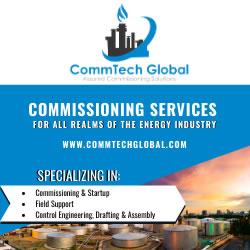 CommTech Global Solutions, LLC, provides professional and reliable commissioning services to customers in all realms of the energy industry. We blend our skills in engineering and technology with innovative business models, offering a complete range of services to assist you for a successful and in compliance operational startup. Consolidation of all our service domains gives our clients a comprehensive set of expertise and far-reaching experience on each project.