New planning policies for Scotland's wind farm sector could have significant unintended consequences for the economy, communities, the renewables industry and the government's own energy targets, according to industry body Scottish Renewables.
The Scottish Government will today (Tuesday 23 July) close its consultation on a revised National Planning Framework and Scottish Planning Policy, which proposes new rules on wind farm applications in National Parks and National Scenic Areas, on 'wild land', and within 2.5km of cities, towns and villages.

In its response to the consultation, Scottish Renewables has put forward alternative proposals to assess the impacts of wind farms on 'wild land' and nearby settlements, arguing that the Government's proposals would rule out most of the country for development with 'worrying consequences' for future investment and jobs.
Commenting on the proposals, Niall Stuart, Chief Executive, Scottish Renewables, said:
"Scotland is renowned for its fantastic landscapes, and clearly there are many parts of the country that are simply not suitable for large scale wind farms or any other form of development. However, these proposals could block wind power in most of the country, with worrying consequences for the industry, for communities and landowners and for the Scottish economy.
"Onshore wind is the fastest growing part of the renewable energy sector, and has almost single-handedly accounted for the doubling in output from Scotland's renewable electricity sector in the last few years. These changes would inevitably slow down development and jeopardise progress towards our renewable energy and climate change targets. Feedback from industry suggests that these new rules could put the brakes on at least 1.4GW (gigawatts) of onshore wind projects – threatening some £2bn of future investment lost along with a number of much-needed job opportunities.
"These new rules could also severely limit the economic and social opportunities given to communities across Scotland to build, own and benefit from onshore wind farm developments. Are we really going to stop more communities like Neilston building wind farms to support their local economic growth and regeneration projects?
"Clearly there is a need for a strong and robust planning system to manage development, but we believe that any potential impacts of wind farms on wild land and nearby towns and villages should be assessed on a case-by-case basis, not the 'broad-brush' approach being proposed by the Government."
Mr Stuart also argued that the Scottish Government's focus on onshore wind was not aligned with public opinion:
"These proposals focus on onshore wind – a technology that has good public support with a recent poll suggesting 62 per cent of Scots would be generally supportive of large scale wind projects in their local council area, more than double the number (24 per cent) who said they would support shale gas, and almost twice as much as nuclear (32 per cent).
"The changes will effectively place more planning restrictions on onshore wind developments than on shale gas operations or opencast coal mining – do we really want to place greater restrictions on a clean source of energy that is supporting thousands of jobs across the country and which has widespread public support?"
Featured Product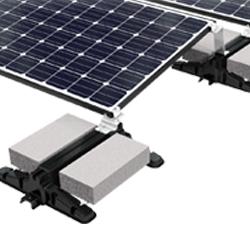 Preformed Line Products introduces the POWER MAX Ballasted Roof Mounting System. The POWER MAX solar mounting system is engineered to maximize energy output on commercial flat roofs. Developed with the professional installer in mind, this system offers adjustable inter-row spacing in the field of up to 11 inches. It features 50% fewer components and a simplified design resulting in faster assembly rates and labor savings on every project. Available in a flush mount, 5Ëš or 10Ëš tilt or higher density dual tilt design, the POWER MAX base arrives stacked on pallets providing easier transport to the roof. Engineered as a fully ballasted, non-penetrating system, it accepts standard concrete blocks and is qualified by wind tunnel testing.