After the large success of their community initiative in Utah, IWS is taking its renewable energy to the residents of Idaho. Expanding their products means educating new potential customers.
Salt Lake City, UT July 24, 2013

IWS has worked tirelessly to become high reputed solar installers in Utah. With a broad experience in the renewable energy industry, they are continuously developing new methods and technologies to increase efficiency. Utilizing reliable products and building a staff of experienced experts, IWS is now expanding a larger portion of their efforts into providing high quality solar power in Boise and the surrounding area.
The community initiative, which IWS started earlier this year, is a means to educate communities about the importance and benefits of utilizing renewable energy sources. These classes are hosted by an experienced representative of the company who can address any questions or concerns that might arise. It also informs consumers of the potential tax incentives and rebates that often go hand in hand with purchasing an IWS system. In conjunction with the classes, IWS offers community bulk pricing. This allows residents an affordable price for solar panels in Idaho. Purchasing in bulk drives down the cost of panels and supplies, making the total cost for installation less expensive.
As leading solar installers in Utah and the midwest, IWS is revolutionizing the cost of solar power in Boise and Salt Lake City. With their initiative, they are offering bulk pricing to the members of the community. Consumers from both states are taking advantage of the financial incentives that go hand in hand with their program. Bulk pricing has caused a complete wipeout of inventory, causing the company to produce products at a more rapid pace.
"We are very pleased with the results so far," said Doug Shipley, founder of IWS. "Our goal is to educate people about renewable resources and how it benefits them economically and environmentally. The successful response for solar panels in Idaho has truly been unexpected. Bulk pricing makes it more affordable and accessible for people who might not have had the option beforehand."
The company is rooting itself up north for the next few weeks, providing workshops and increasing awareness among residents about the benefits of solar power in Boise. Expanding their brand and services across states allows the company to educate more people and install more units. With the goal of saving on monthly bills in mind, residents are receiving the company with full acceptance; many are taking advantage of the special bulk promotion. For more information about the services offered by the solar installers in Utah and Idaho, visit their website at http://www.imwindandsolar.com.
Featured Product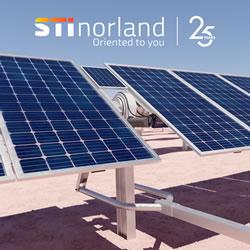 Developed in 2017, the STI-H250™ is consists of two linked torsion beams that rotate simultaneously following the sun's path. They are moved by just one motor, cutting supply and maintenance costs. STI-H250™ dual-row tracker includes backtracking mode to avoid shadowing between adjacent rows and stow function to protect the tracker in extreme wind conditions. For cleaning, vehicles can pass between trackers and each row can be placed in a different position.