Chinese and European authorities agreed to set a minimum price on Chinese solar panel. After several weeks of discussion, both sides, are aiming for an amicable issue to their dispute over Chinese photovoltaic panels.
For months, China and European Union have been discussing the trade issue regarding Chinese solar panel to Europe. Those discussions ended up with the decision to establish an up to 47.6% custom duty on Chinese solar panel. In response, Beijing declared they will open an anti-dumping investigation on European wine.

It's been 6 weeks China and European Union started negotiation to avoid a trade war which can damage both side. The first part of the negotiation led to an agreement between each part to settle a minimum price on Chinese solar photovoltaic in the European trade zone. This week, Chinese officials were in Brussels to discuss the amount of this price limit and other points of the agreement with their European counterparts.
Both sides seem to have agreed on a minimum price and an annual quota on Chinese solar panel importation.
According to sources close to the case, Chinese photovoltaic panel will be sell at 0.55€ per watt of capacity instead of 0.38€ per watt capacity at minimum.
In addition to a minimum price, other parts of settlement have yet to be defined. The E.U wants to decrease China's market share on the European solar panel market. Today, Chinese solar companies represent 80% of the market, the E.U commission wish to decrease this number to 60%. Moreover, Beijing wishes the agreement to conclude by the end of 2014 whereas Brussels wants to end it by the end of 2015.
European Union Trade commissioner, Karel De Gucht, and Chinese Commerce Minister Gao Hucheng will lead the final discussion by phone.
Time is almost up for the European custom duty on Chinese solar panels to be effective. If the agreement is not sign on August 6th, Chinese companies will be able to hold their imported photovoltaic panels until everything is settled.
Featured Product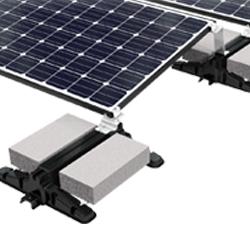 Preformed Line Products introduces the POWER MAX Ballasted Roof Mounting System. The POWER MAX solar mounting system is engineered to maximize energy output on commercial flat roofs. Developed with the professional installer in mind, this system offers adjustable inter-row spacing in the field of up to 11 inches. It features 50% fewer components and a simplified design resulting in faster assembly rates and labor savings on every project. Available in a flush mount, 5Ëš or 10Ëš tilt or higher density dual tilt design, the POWER MAX base arrives stacked on pallets providing easier transport to the roof. Engineered as a fully ballasted, non-penetrating system, it accepts standard concrete blocks and is qualified by wind tunnel testing.