Smart modules help drive company's growth in booming solar market
TOKYO--Upsolar, a leading international provider of solar PV modules, today announced the completion of two projects in Japan, including the debut of Upsolar's smart modules in one of the world's fastest growing solar markets.

Upsolar's recently completed 48-kW system in the city of Anjo is the first in Japan to utilize the company's smart modules featuring patented power optimization technology from Tigo Energy. Smart modules enable Upsolar to offer its customers increased system performance while allowing for design flexibility in challenging environments including partially shaded sites.
Smart module systems are also equipped with real-time monitoring capabilities, allowing customers to track performance at the module level for greater transparency into their clean energy investments. In addition, the technology's PV-Safe™ function allows for deactivation of the system at the module level, improving overall system safety by eliminating high voltage for emergency or maintenance teams.
"Our smart modules have tremendous potential to spur sustained solar adoption in the already booming Japanese market," said Roy Li, representative director for Upsolar Japan. "With constraints on the amount of space for solar in Japan—a reported 73 percent of available land is mountainous and/or forested—smart modules offer an ideal solution to achieve top-tier performance with limited resources."
Upsolar also recently unveiled a 1 MW project in Kyushu. Featuring 4200 UP-M240P polycrystalline modules, the system will power operations for the Mitax Corporation.
Upsolar first entered the Japanese market in 2010, and has since provided its high quality modules for use in residential, commercial and utility-scale projects nationwide. The company was also selected as a promoted brand by the Kanagawa Solar Banking System, a government initiative to encourage solar energy adoption.
Visit Upsolar at booth P01-080 during PV Japan, July 24-26 in Tokyo.
About Upsolar
Upsolar develops and produces high quality solar PV modules at competitive prices, offering a secure long-term investment for customers around the world. Bolstered by a commitment to product R&D and support from its flexible manufacturing platforms, Upsolar ensures top-tier performance and reliability while maintaining an asset light approach to its business. All Upsolar products are backed by industry-leading product and performance guarantees to ensure superior performance over the lifetime of each system. Upsolar also champions environmental sustainability through key sponsorships and environmental initiatives. To learn more about Upsolar, its products or its sustainability efforts, please visit www.upsolar.com.
Featured Product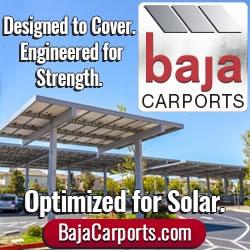 Baja Carports offers an extensive solar support system product line customized to customers' site specifications by in-house engineers, meeting their parking lot coverage, plus optimal PV production needs. Baja's Full Cantilever Tee is often paired with its Semi and Full Cantilever carports to meet live/loads up to 60psf and wind speeds to 160mph. All Baja products are pre-fabricated, bolted connections, pre-galvanized structural steel for fast on-site installation and project aesthetic requirements."