Innovative design makes mechanical equipment stands in U.S. lighter, more efficient and cost-effective
ELK GROVE VILLAGE, Ill.--Wynright Corporation, a leading independent, U.S.-based provider of structural solutions, announced the completion of Phase II of its deployment in the U.S. of mechanical equipment stands for wind turbine manufacturer Nordex USA, Inc.

Wynright Structural Solutions collaborated with Nordex USA to design, build and ship more than 130 converter support stands to their wind generation sites in six states in 2011 and 2012. The converter support stands provide structural support for the equipment that converts wind to electrical energy.
Wynright designed a lighter, more efficient and cost-effective stand that makes it easier for installation and maintenance crews to access the infrastructure within Nordex's wind turbine converters at its sites in Washington, Nebraska, Tennessee, Iowa, Texas and Michigan.
"We provided the domestic sourcing and an innovative engineering solution that made it more cost-effective for Nordex USA to collaborate on a project of this magnitude in the U.S.," said Ted Zurkowski, President, Wynright Structural Solutions. "By reducing the bulkier bracing previously used for these types of platforms, the access to the cables and equipment underneath the wind turbines was streamlined so installation and maintenance crews can more easily perform their jobs."
Wynright's design reinforced the stands so they can better secure the cables running from the wind turbine converters through the platform and prevent damage of cable coatings due to unsupported cable lengths. Every converter includes up to 36 eight-foot long electrical cables that each weigh approximately 2.5 pounds per foot.
Wynright specializes in designing and developing customized steel fabrication solutions for equipment manufacturers in several industrial markets. Its team of dedicated engineers, integrators and project managers provide extensive knowledge of structural solutions of all kinds, including equipment platforms, conveyors, catwalks, mezzanines, ladders and stair towers.
"Wynright has been providing market-leading engineering expertise to develop innovative, customized structural solutions for more than 40 years," said Zurkowski. "With the focus today on developing alternative sources of energy, we are proud to collaborate with Nordex USA on such an important green program. As Nordex USA looks to expand the footprint of its wind generation turbines throughout North and South America, we hope to have the opportunity to continue to provide our engineering expertise and innovative ideas to further reduce the costs of installing and maintaining these wind turbine converters."
About Wynright
Wynright Corporation is the nation's leading independent, U.S.-based provider of intelligent material handling systems. With more than 200 engineers in-house, the company designs, manufactures, integrates and installs the full spectrum of intralogistics solutions, offering both Wynright-branded and third-party equipment to meet customer needs. These include leading-edge conveyor and sortation systems, voice- and light-directed order fulfillment equipment, a suite of warehouse controls and execution software, robotics, mezzanines, and structures, all backed by critical round-the-clock service and support.
Since its founding in 1972, Wynright has been a trusted partner to some of the world's largest and fastest-growing companies, showing them how to use their space more efficiently to deliver improved productivity, today and tomorrow. For more information on our services, technology and product portfolio, please visit www.wynright.com.
Featured Product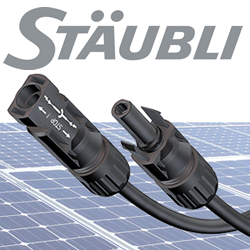 ​Stäubli Electrical Connectors are used on more than 300 GW, over 50% of the PV capacity worldwide. The MC4 family of UL and TUV listed products include connectors, in-line fuses, branch connectors, cable assembly and more.