Learn to Structure and Analyze Financing for Your Renewable Energy Projects from Active Project Finance Experts
Woodland Hills, CA July 29, 2013

Infocast brings its highly successful and informative bi-annual Advanced Renewable Energy Project Finance & Analysis Seminar to the Digital Sandbox on October 8-9, 2013 in New York, NY. Active project finance players with decades of experience structuring and securing financing for renewable energy projects headline this comprehensive 2-day interactive hands-on course.
Uncertainty over tax incentives and public policy changes are complicating renewable energy project financing.
The difference between profitability and failure of a renewable energy project is ultimately tied to being able to accurately assess project risks, analyze impacts of project structures on financeability, and pursuing the right equity and debt financing strategies. With uncertainty over tax incentives and public policy changes complicating project financing, and new financing structures and stricter due diligences the rules of day, only projects that are optimally structured to mitigate risk and take advantage of unique renewable energy incentives will secure financing.
The Advanced Renewable Energy Project Finance & Analysis seminar has been revised for the current project finance marketplace with an expanded focus on solar project finance and project structuring in the post-tax grant environment. The course is led by project finance experts from leading financial, legal and project development companies such as Alyra Renewable Energy Finance LLC, Goldwind USA, and Skadden, Arps, Slate, Meagher & Flom LLP. These distinguished project finance professionals will provide seminar attendees with sample terms sheets, analytical tools, and spreadsheets from actual projects to help them successfully secure project financing.
This meeting will offer an exceptional opportunity to learn how to successfully finance your renewable project. It will focus on critical topics including risk evaluation and sharing, contract structuring and documentation, project financial modeling and analysis, risk analysis by lenders and equity investors, partnership flip and lease structures, and much more.
For more information, to register for the seminar, or to join us as a sponsor, visit the event website at infocastinc.com/apft-ny13 or contact Infocast events at 818-888-4444.
About Infocast
Infocast is an event production company with over 25 years of solid industry experience, including a highly successful series of Finance and Investment Summits where industry players gather to share their perspectives on the finance and investment market, to establish relationships, network and conduct business.
Featured Product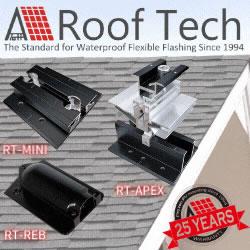 These ongoing webinars cover Roof Tech's background, product design (RT MINI and APEX), code and best practices. You will learn about a proven system that reduces installation time while keeping the integrity of the roofing system. This training will earn you one NABCEP Continuing Education Credit. The webinars are offered every Tuesday from 11 AM PDT to Noon during the months of April and May, 2020.