New company and innovation center positioned to immediately galvanize the emerging distributed generation market with top industry talent and key strategic relationships
CHICAGO--With distributed solar, distributed generation and microgrids poised to change the face of energy, a new company has launched that brings together top players at every level of the energy value chain to deliver immediate scale and innovation in commercial-sized, distributed energy solutions. Called Veriown Energy, the new company is a spin out of New Generation Power, a global developer of utility scale renewable energy and infrastructure, with booked contract revenues over $600M.

"The electric power industry in the United States is undergoing a transformation; from a model that relies on large, inefficient, centralized power plants to more diverse, decentralized, efficient, renewable solutions," said Dr. Chirinjeev Kathuria, President, Chairman of New Generation Power, Chairman of Veriown. "Few innovation providers come out of the gate with the kind of assets, capabilities, talent and vision that Veriown announces today."
Focused squarely on the commercial and institutional market, Veriown offers businesses, universities, governments and other institutions on-site distributed solar and distributed energy services to allow its clients to lock in long-term, low-cost, predictable energy rates with little to no capital expense.
Veriown begins with a top talent management team in place with a significant track record in energy, utility infrastructure, government policy, smart grid R&D, investment banking, and building global companies for public markets. As CEO, Steve Johanns joins Veriown from Eaton, where he developed its Energy & Infrastructure business strategy for the central region of U.S. Tom Levitsky, a top talent in the solar industry, formerly Director of Global Performance Engineering for First Solar (NASDAQ: FSLR), has been recruited to join Veriown as Vice President of Operations. Levitsky brings more than 20 years of utility, large industrial, and government systems engineering to his position at Veriown.
The new company also starts with industry-leading global relationships with companies like Eaton (NYSE: ETN), Jones Lang LaSalle (NYSE: JLL), Talesun Solar, and WESCO (NYSE: WCC), which provide Veriown a unique window into the potential market, technology solutions, and supply chain capabilities.
"Our corporate teaming relationships represent the best in class in their respective industries," said Johanns. "Collectively they represent over 50 percent of the electrical infrastructure market in North America and 2 billion sq. ft. of real estate globally."
Also announced today was the creation of the Veriown Innovation Center (VIC), a joint partnership of Veriown and CogniTek Management Systems (CogniTek), which will commercialize a number of patents and R&D assets focused on developing and commercializing distributed generation technologies that allow for 24/7/365 energy without the need for subsidies. Further announcements about the specific technologies will be released over the next few months.
"The Veriown Innovation Center is a strategic partnership that marries the large portfolio of distributed generation breakthrough technologies of CogniTek with Veriown's ability to scale, maximize global corporate relationships, and utilize proven leadership in developing next generation businesses," said Johanns.
Michael Gurin, CEO of CogniTek, will be Chief Technology Officer of VIC. Sean Murdock, founder of NanoSonix, will be Chief Strategy Officer.
According to research by Navigant, the renewable distributed energy generation (RDEG) market will experience strong growth over the next several years, with total system revenues increasing from $50.8 billion in 2009 to $154.7 billion by 2015. During this period, the annual RDEG capacity additions will increase from 5.9 gigawatts (GW) in 2009 to 15.1 GW in 2015.
Also as part of its launch, Veriown announced a partnership with the Galvin Center for Electricity Innovation at the Illinois Institute of Technology to collaborate on delivering the next generation of microgrid solutions to the industry. Microgrids can help eliminate blackouts, reduce energy consumption and integrate more distributed energy sources.
"The Galvin Center is pleased to partner with Veriown in fulfilling our collective ambition to create new advanced distributed energy and microgrid solutions," Dr. Mohammad Shahidehpour, Director of Galvin Center for Electricity Innovation at Illinois Institute of Technology. "It is a very dynamic and ever-changing energy landscape and we look forward to the collaboration ahead."
Veriown customers will soon be able to employ microgrid solutions to further lower their energy costs and secure a reliable, safe and clean energy supply leading to customers finally harnessing their very own energy.
Veriown will be making several other announcements of new projects in the coming weeks and months.
Veriown Leadership Team
Dr. Chirinjeev Kathuria, Co-Founder and Chairman
Steve Johanns, Co-Founder and CEO
Tom Levitsky, Vice President Operations
Veriown Advisory Board
Dr. Mohammad Shahidehpour, Director of Robert W. Galvin Center for Electricity Initiative at Illinois Institute of Technology
Michael Burns, Managing Director of Jones Lang LaSalle
Mark McGee, Chairman, President, Sonoma Consulting
Featured Product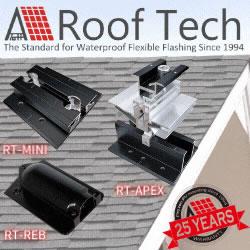 These ongoing webinars cover Roof Tech's background, product design (RT MINI and APEX), code and best practices. You will learn about a proven system that reduces installation time while keeping the integrity of the roofing system. This training will earn you one NABCEP Continuing Education Credit. The webinars are offered every Tuesday from 11 AM PDT to Noon during the months of April and May, 2020.