Rio de Janeiro – September 3-5 – Booth No 47
Meteodyn will exhibit and give software demonstrations during the most important wind power event in

Brazil. You are warmly welcome to discuss, share experience and ask questions to our experts.
This year, it's very special because we will exhibit with our new Brazilian partner and distributor for
meteodyn WT software in Brazil: AL‐PRO Energia Regenerativa Brasil Ltda.
Meteodyn develops numerical wind modeling software and studies wind park projects' feasibility.
‐ Wind resource assessment in every kind of terrains
‐ Extreme wind analysis
‐ Wind turbine location study
‐ Energy production optimization
The techniques used by Meteodyn, based on the Fluids Mechanics equations, are the most performing
and reliable ones to make a windfarm reliable.
Meteodyn does not only work on the preliminary study. Meteodyn develops also wind production
forecasting solutions to optimize wind farm production taking care of wind machine lifespan.
For more information about our consulting topics, wind modeling software, visit our website at:
www.meteodyn.com/en
Featured Product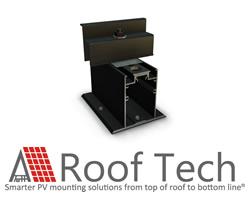 The most compact versatile rail-less PV mounting system under the sun. Instead of placing solar panels on top of long rails, simply attach E Mount AIR to rafters or the roof decking. Once panels are fastened to the roof, the system array is electrically bonded. The result is a visually seamless PV installation that stands the test of time. - Truly "One With The Roof". - PE stamped cert. letters available, UL 2703 Classified, ASTM 2140 fully waterproof. The one and only with integrated flexible flashing certified by the ICC! All the best quality. Only from Roof Tech