Rio de Janeiro – September 3-5 – Booth No 47
Meteodyn will exhibit and give software demonstrations during the most important wind power event in

Brazil. You are warmly welcome to discuss, share experience and ask questions to our experts.
This year, it's very special because we will exhibit with our new Brazilian partner and distributor for
meteodyn WT software in Brazil: AL‐PRO Energia Regenerativa Brasil Ltda.
Meteodyn develops numerical wind modeling software and studies wind park projects' feasibility.
‐ Wind resource assessment in every kind of terrains
‐ Extreme wind analysis
‐ Wind turbine location study
‐ Energy production optimization
The techniques used by Meteodyn, based on the Fluids Mechanics equations, are the most performing
and reliable ones to make a windfarm reliable.
Meteodyn does not only work on the preliminary study. Meteodyn develops also wind production
forecasting solutions to optimize wind farm production taking care of wind machine lifespan.
For more information about our consulting topics, wind modeling software, visit our website at:
www.meteodyn.com/en
Featured Product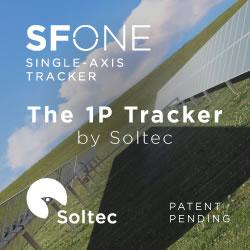 Soltec manufactures and supplies solar trackers designed and proven for extreme climate conditions, which is an ideal solution for any region's environment. Soltec's trackers are self-powered, requiring no additional PV module or grid-powered connection. Bifacial modules collect energy on both the front and rear sides, capturing reflected irradiance from the ground surface under and around the tracker and from other modules. Depending on site conditions, bifacial yield-gain can reach +30 percent.