China's action had been widely expected after the U.S. Department of Commerce in May 2012 announced a preliminary determination in its antidumping investigation of imports of crystalline silicon PV cells from China.
El Segundo, Calif. (July 29, 2013)—China's move to slap retaliatory antidumping tariffs on solar polysilicon imported from the United States and South Korea will cause only a slight increase in domestic pricing for the material, according to the Photovoltaics (PV) service at information and analytics provider IHS (NYSE: IHS).

The Ministry of Commerce in China this week imposed steep tariffs on U.S.-made solar polysilicon, ranging from 53.3 percent to 57.0 percent. Duties for South Korean polysilicon were much lower, starting at 2.4 percent and rising up to 48.7 percent.
China's action had been widely expected after the U.S. Department of Commerce in May 2012 announced a preliminary determination in its antidumping investigation of imports of crystalline silicon PV cells from China.
Despite the tariffs, China spot market polysilicon pricing is expected to rise by only 0.6 percent this month, as presented in the attached figure. Prices will go up by a more significant 6.6 percent in August, but then will moderate to a 2.3 percent increase in September.
"Two factors will mitigate the impact of China's antidumping action on polysilicon pricing in China," said Glenn Gu, senior PV analyst at IHS. "First, the decision leaves open some loopholes that should allow the U.S. and South Korean suppliers to bypass the tariffs. Second, the actual penalties on the South Korean suppliers are expected to be negligible. And because the South Koreans are the major foreign suppliers and competitors for domestic companies in China, these slap-on-the-wrist duties are unlikely to drive up polysilicon pricing very much."
With no major boost in the cost of imports, domestic Chinese polysilicon suppliers are not expected to increase prices to more than 140 yuan per kilogram during the next two months, compared to 120 to 125 yuan per kilogram before the tariffs were imposed.
Presidential polysilicon
The major disparity in the level of tariffs for the U.S. and South Korea had been expected for reasons beyond retaliation for the U.S. antidumping action in 2012.
For one, the average price for polysilicon imported from U.S. suppliers is much lower than that of the South Korean suppliers during the investigation period from July 1 through July 30. Because of that, higher tariffs on the U.S. polysilicon were applied as a punitive measurement.
For another, South Korean president Park Geun-hye in June made a diplomatic visit to China. The event turned out to be a smashing success, paving the way for further negotiation on a free trade agreement between the two countries.
Furthermore, senior executives from South Korean polysilicon supplier OCI Company Ltd. accompanied President Park on her visit. Not coincidentally, OCI was given the lowest tariff rate, at 2.4 percent—the smallest penalty of all companies affected by the antidumping action.
Is the EU next?
Despite the European Union's move earlier this year to levy import duties on solar modules imported from China, the Chinese government didn't announce tit-for-tat tariffs. China, IHS Solar believes, is unlikely to impose tariffs on imported polysilicon from European suppliers—and if it does, the penalties will be minor.
This is because the country is trying to pave the way to negotiations with the European Commission regarding the solar trade dispute. If a negotiated settlement is possible, China is not likely to impose tariffs on European polysilicon.
About IHS (www.ihs.com)
IHS (NYSE: IHS) is the leading source of information, insight and analytics in critical areas that shape today's business landscape. Businesses and governments in more than 165 countries around the globe rely on the comprehensive content, expert independent analysis and flexible delivery methods of IHS to make high-impact decisions and develop strategies with speed and confidence. IHS has been in business since 1959 and became a publicly traded company on the New York Stock Exchange in 2005. Headquartered in Englewood, Colorado, USA, IHS is committed to sustainable, profitable growth and employs approximately 8,000 people in 31 countries around the world.
Featured Product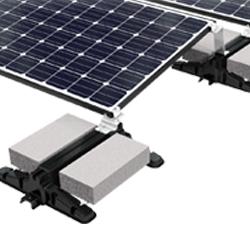 Preformed Line Products introduces the POWER MAX Ballasted Roof Mounting System. The POWER MAX solar mounting system is engineered to maximize energy output on commercial flat roofs. Developed with the professional installer in mind, this system offers adjustable inter-row spacing in the field of up to 11 inches. It features 50% fewer components and a simplified design resulting in faster assembly rates and labor savings on every project. Available in a flush mount, 5Ëš or 10Ëš tilt or higher density dual tilt design, the POWER MAX base arrives stacked on pallets providing easier transport to the roof. Engineered as a fully ballasted, non-penetrating system, it accepts standard concrete blocks and is qualified by wind tunnel testing.