Ground clearing on the first solar field is expected to occur in September.
UNIONDALE, N.Y.--Solar Thin Films, Inc (OTC Markets: SLTZ) (the "Company"), an environmentally conscious company working to bring new products to market with a strong focus on Fiber Reinforced Plastics technology (FRP), as well as waste to energy and solar energy, announced today an agreement in principle to design, supply and construct three photo-voltaic (PV) solar fields.

The agreement with property owner Tri-State Wind Energy LLC provides for three solar fields initially capable of producing 35 MW of electricity annually, consisting of one 15 MW field in Fayette County, WV, one 10 MW field in Sand Black Church, WV, and one 10 MW field in Nicholas County, WV.
Ground clearing on the first solar field is expected to occur in September. Upon finalization of the contract, the Company is expected to receive payments totaling $140,000,000 over the life of the three projects. The first project, worth approximately $40,000,000 for a 10 MW solar field, is expected to be completed by the end of 2013. Ground clearing for the 15 MW field is expected to begin before the end of 2013 as well. All three projects should be completed by the third quarter of 2014. For each project, the Company will receive an initial deposit as well as progress payments.
James Solano, Chief Executive Officer of the Company stated, "This is an important development for the Company. These design, supply and install projects will generate significant start-up revenue for the Company, at healthy expected profit margins. We have every reason to believe that we will consummate these contracts very shortly and will report further developments as they occur."
About Solar-Thin Films, Inc.
Through its subsidiary Quality Resource Technologies, Inc., the Company is focused on developing its business in three areas: (1) developing and manufacturing shipping containers using patented Fiber Reinforced Plastics (FRP) technology, (2) building housing using patented FRP technology and (3) developing waste to energy and solar energy projects which initially will be marketed and sold in the United States and the Caribbean.
Featured Product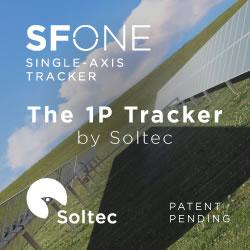 Soltec manufactures and supplies solar trackers designed and proven for extreme climate conditions, which is an ideal solution for any region's environment. Soltec's trackers are self-powered, requiring no additional PV module or grid-powered connection. Bifacial modules collect energy on both the front and rear sides, capturing reflected irradiance from the ground surface under and around the tracker and from other modules. Depending on site conditions, bifacial yield-gain can reach +30 percent.