FreedomTM Plan, only all-American solar financing program, now available not only in California but also in Colorado, Connecticut, Hawaii, Maryland, Massachusetts and New Jersey
HILLSBORO, Ore., July 31, 2013 – SolarWorld, the largest U.S. solar manufacturer for more than 35 years, has extended its popular Freedom Plan, the solar industry's only financing program dedicated to high-quality, American-made solar panels and racking, to six additional U.S. states. The program is now available to residential solar customers not only in California but also in Colorado, Connecticut, Hawaii, Maryland, Massachusetts and New Jersey. It is designed for homeowners seeking freedom from rising utility costs and foreign energy sources by replacing a portion of their electricity bill with a low monthly solar-power payment.

With zero-down, low-down and prepaid options, the SolarWorld Freedom Plan offers homeowners several options for financing their American-made solar investment and minimizing their upfront costs. The plan is offered in conjunction with SolarWorld's complete solar-electric systems, which include photovoltaic equipment, installation, and monitoring, insurance and maintenance for up to 20 years.
"From coast to coast, solar financing is changing the way American families consume energy, enabling many more to incorporate sustainability while saving money," said Rusty Pittman, head of marketing for SolarWorld Americas. "SolarWorld's Freedom Plan not only makes the decision to go solar easier and more affordable but it also gives homeowners a way to support U.S. jobs and the national economy by selecting high-quality, American-made solar products."
The Freedom Plan is available through the company's network of authorized installers. SolarWorld authorized installers are experienced, factory-trained solar professionals with a track record of quality design, construction and customer service. Homeowners can visit SolarWorld's website to find an authorized installer near them.
Installation companies that service California, Colorado, Connecticut, Hawaii, Maryland, Massachusetts and New Jersey and are interested in providing flexible financing through the Freedom Plan can apply for the authorized installer program online.
SolarWorld launched the Freedom Plan in California in February. Beyond the seven inaugural state markets, SolarWorld will expand the Freedom Plan into additional U.S. solar markets, including Arizona and New York, in coming months.
About SolarWorld
SolarWorld AG manufactures solar power systems and in doing so contributes to a cleaner energy supply worldwide. The company, located in Bonn, employs approximately 2,500 people and carries out production in Freiberg, Germany, and Hillsboro, USA. From raw material silicon to the solar module, SolarWorld manages all stages of production ‒ including its own research and development. Through an international distribution network, SolarWorld supplies customers all over the world with solar modules and complete systems. The company maintains high social standards at all locations across the globe, and has committed itself to resource- and energy-efficient production. SolarWorld has been publicly traded on the stock market since 1999. More information at www.solarworld-usa.com
Featured Product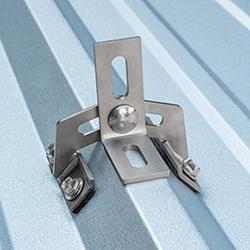 Error-Proof Compression: The QB2 doesn't leave any room for user error when it comes to Microflashing® compression. Once the Dual Drive Shoulder Screw is secured, the Microflashing® is compressed. Only 3 Components: The QB2 is comprised of Microflashing®, an L-foot and a Dual Drive Shoulder Screw. No more Nuts needed to tighten and secure the L-foot! Not only does this simplify the installation process, it also cuts down the installation time.