First Fuel Cell Module Manufactured by FuelCell Energy Solutions at German Production Facility
DANBURY, Conn., Aug. 1, 2013 -- FuelCell Energy, Inc.

(Nasdaq:FCEL), a global leader in the design, manufacture, operation and
service of ultra-clean, efficient and reliable fuel cell power plants, today
announced that FuelCell Energy Solutions, GmbH has launched a new website at
www.fces.de and completed the first fuel cell module manufactured at the
Ottobrunn, Germany manufacturing facility.
"Megawatt-class fuel cell power plants and fuel cell parks are efficiently
and economically providing power in North America and Asia and our new
website showcases how clean distributed power generation is applicable for
the European marketplace," said Chip Bottone, President and Chief Executive
Officer FuelCell Energy, Inc. and Managing Director, FuelCell Energy
Solutions, GmbH. "We are expanding our presence and use of technology in
Europe with a manufacturing facility in Germany, and customers in Germany,
the United Kingdom, Spain, Norway and Switzerland."
The new website highlights the applications for highly efficient and
environmentally friendly fuel cell power generation, both for on-site
applications with large power users as well as electric grid support for
utilities. Each of the megawatt-class markets are explained, including
on-site power for universities, municipal, food and beverage, and industrial
applications as well as electric grid support with multi-megawatt fuel cell
parks for electric utilities and independent power producers. FuelCell
Energy Solutions also has a product oriented towards maritime applications.
The website includes an explanation of fuel cell technology and illustrates
the multiple attributes and value that stationary fuel cell power plants can
deliver. Visitors have the option of viewing the website in either German or
English.
"Our German manufacturing facility recently completed and verified the power
output of our first fuel cell module," Stefan Peterhans, Vice President
Engineering and Operations, FuelCell Energy Solutions, GmbH.
"This fuel cell module is now ready for transport to Berlin, Germany for
installation at the new Federal Ministry of Education and Research
(BMBF) government complex currently under construction."
Stationary fuel cell power plants provide continuous on-site power and
electric grid support in a highly efficient electrochemical process that is
virtually absent of pollutants. Ultra-clean, quiet, and requiring only
modest space, fuel cell power plants are easy to site in populated areas.
FCES, with its German manufacturing base, is the project development, sales,
engineering, manufacturing and service business for the European Served Area
for FuelCell Energy, Inc. FCES is a joint venture between Fraunhofer IKTS
and FuelCell Energy, Inc. (Nasdaq:FCEL).
About FuelCell Energy Solutions, GmbH
FuelCell Energy Solutions manufactures, sells, installs, and services
stationary fuel cell power plants that efficiently and economically generate
electricity and usable high quality heat suitable for making steam.
Administrative offices are located in Dresden, Germany and manufacturing
operations are located in Ottobrunn, Germany. Continuous power generated at
the point of use with the virtual absence of pollutants supports energy
security and power reliability as well as sustainability initiatives.
Ultra-Clean baseload distributed generation is attractive to electric
utilities, universities, hospitals, government facilities, industrial
operations and other locations with significant power needs. For more
information please visit our website at www.fces.de
About FuelCell Energy
Direct FuelCell(R) power plants are generating ultra-clean, efficient and
reliable power at more than 50 locations worldwide. With more than
300 megawatts of power generation capacity installed or in backlog, FuelCell
Energy is a global leader in providing ultra-clean baseload distributed
generation to utilities, industrial operations, universities, municipal
water treatment facilities, government installations and other customers
around the world. The Company's power plants have generated more than 1.7
billion kilowatt hours of ultra-clean power using a variety of fuels
including renewable biogas from wastewater treatment and food processing, as
well as clean natural gas. For more information, please visit
www.fuelcellenergy.com
Featured Product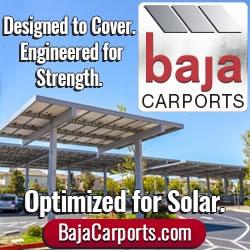 Baja Carports offers an extensive solar support system product line customized to customers' site specifications by in-house engineers, meeting their parking lot coverage, plus optimal PV production needs. Baja's Full Cantilever Tee is often paired with its Semi and Full Cantilever carports to meet live/loads up to 60psf and wind speeds to 160mph. All Baja products are pre-fabricated, bolted connections, pre-galvanized structural steel for fast on-site installation and project aesthetic requirements."