Dedicated team of field-service engineers and technicians actively oversees the quality and performance of a solar project.
Rohnert Park, CA August 01, 2013

Stellar Energy, a full service solar integrator focused on designing, building and maintaining large-scale commercial solar systems is announcing a national rollout of operations and maintenance services. Since 2004, Stellar Energy has been servicing, repairing and monitoring systems installations.
"With decades of solar experience, a nationwide presence and over 80 MW of corporate, government and utility projects, Stellar Energy has the knowledge and resources needed to keep solar systems running at peak performance," said Wayne Williford, Stellar Energy Director of Operations & Maintenance. "Stellar Energy's dedicated teams perform the cleaning, repair and monitoring services required to optimize system performance."
Operations & Maintenance are critical components of managing solar energy facilities and are usually discussed during pre-construction to ensure the long term viability of solar investments. Leading businesses across industries rely on Stellar Energy's best-in-class maintenance and monitoring solutions.
Services include routine maintenance, repair services, and monitoring. Stellar Energy performs scheduled cleaning and maintenance to maximize performance and protect system's warranties and identify and fix what might cause a system to underperform or fail. Using state-of-the-art equipment, energy production output is monitored and ROI is optimized. Services are available for all installation types: rooftop systems, carports, fixed tilt ground-mount systems, and ground-mount systems with single or dual-axis trackers.
"Stellar Energy is a leading commercial solar integrator with full operations and maintenance capabilities," said Stellar Energy President, Michael Mittleman. "Stellar Energy's flexible and cost-effective solutions will maximize and protect solar investments for years to come."
About Stellar Energy
Stellar Energy is one of the nation's top providers of commercial-scale solar energy systems. Our sister company Soligent LLC is the largest and most comprehensive full-service distributor of renewable energy products in the US. This relationship provides Stellar Energy access to the highest quality products at the most competitive pricing without bias to proprietary technology, manufacturing or financing. With 30 years of experience in solar, our team is committed to professional solar project delivery and system operation, delivering the best financial and environmental benefits possible to our clients. For more information, please visit http://www.stellarenergy.com/.
Featured Product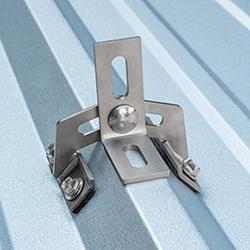 Error-Proof Compression: The QB2 doesn't leave any room for user error when it comes to Microflashing® compression. Once the Dual Drive Shoulder Screw is secured, the Microflashing® is compressed. Only 3 Components: The QB2 is comprised of Microflashing®, an L-foot and a Dual Drive Shoulder Screw. No more Nuts needed to tighten and secure the L-foot! Not only does this simplify the installation process, it also cuts down the installation time.