McGinn to Continue to Lead ACORE Through August Transition, with Interim CEO Michael Brower Working Along Side
Washington, DC, August 2, 2013 –Last evening, the Senate unanimously confirmed the American Council On Renewable Energy's (ACORE) President and CEO, Vice Admiral Dennis McGinn to be Assistant Secretary of the Navy for Energy, Installations and Environment. He is expected to continue to lead ACORE during August, transitioning the organization to Interim CEO Michael Brower.

"Guided by our ACORE Board of Directors-approved strategic plan, Admiral McGinn and I are working together with the Board to ensure that his transition is seamless, and that we sustain the work and many advances ACORE has made," said Brower. "Through August and beyond, ACORE will continue to communicate the value proposition of renewable energy through our initiatives, programs, and tremendous member thought leadership."
Admiral McGinn was an ACORE Advisory Board member since 2004, and was named President and CEO in April, 2011. McGinn refocused ACORE's work into three Initiatives: National Defense & Security; Power Generation & Infrastructure; and Transportation, thereby increasing member engagement and the organization's impact. In June, 2012, McGinn oversaw the successful launch of Energy Fact Check, a website that counters misinformation about renewable energy with cited facts, studies and infographics.
ACORE is a 501(c)(3) non-profit membership organization with members representing all renewable energy technologies. The organization convenes thought leadership forums and creates energy industry partnerships to communicate the economic, security and environmental benefits of renewable energy.
McGinn had a 35-year career with the U.S. Navy where he served as a naval aviator, test pilot, aircraft carrier commanding officer, and national security strategist. His capstone assignment with the Navy was Deputy Chief of Naval Operations for Warfare Requirements and Programs at the Pentagon, where he oversaw the development of future U.S. Navy capabilities.
About ACORE:
ACORE, a 501©(3) non-profit membership organization, is dedicated to building a secure and prosperous America with clean, renewable energy. ACORE seeks to advance renewable energy through finance, policy, technology, and market development and is concentrating its member focus in 2013 on National Defense & Security, Power Generation & Infrastructure, and Transportation. Additional information is available at www.acore.org.
Featured Product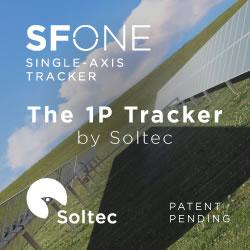 Under the slogan "engineered for greatness", the SF8 tracker aims to revolutionize the photovoltaic market with its new minimum 2x60 configuration and 4 to 6-strings. This tracker is elegantly designed while it reinforces its structure to perform in any terrain. In addition, the SF8 tracker increases the rigidity of its structure by 22% more than the previous generation of Soltec trackers, the SF7. The SF8 is specially designed for larger 72 and 78 cell modules, an increasing market trend.