Frank Asbeck, chairman and CEO of SolarWorld: "Approval of our financial restructuring gives SolarWorld's business a boost so we can continue to lead the solar industry in technology and quality."
Bonn, Germany, Aug. 7, 2013 – At an extraordinary general meeting today in Bonn, Germany, more than 91 percent of SolarWorld's shareholders voting agreed to implement capital measures to restructure the company's financial position and balance sheet. On Aug. 5 and 6, more than 99 percent of voting holders of SolarWorld's two notes also accepted the package. As a result, the road to restructuring is clear.

Furthermore, Dr. Claus Recktenwald, chairman of SolarWorld's Supervisory Board, announced that Asbeck's appointment as CEO will extend five more years, until Jan. 9, 2019.
Asbeck said: "Our restructuring concept has been accepted by an overwhelming majority of all parties. Thanks to the decisions of noteholders and shareholders, SolarWorld will stand on a stable financial foundation again. We will now implement the approved measures with due care as quickly as possible." SolarWorld's Management Board assumes that the debt-restructuring resolutions can be carried out between November 2013 and February 2014.
"Today's agreement sends a strong signal to the industry: SolarWorld stands for continuity and reliability. Customers, business partners and employees can again have confidence in the company's financial stability. As always, we strive to be the industry leader in technology and quality, while passing cost reductions based on our self-developed innovations on to our customers," Asbeck said.
The package's key element is a considerable cut in SolarWorld's debt. About 55 percent of the company's liabilities will be converted into shares. Toward this end, SolarWorld's shareholders had to agree to a capital reduction followed by an issuance of new shares.
On June 18, SolarWorld announced that Qatar Solar S.P.C. of Doha, Qatar, and Asbeck intend to purchase SolarWorld's new share capital. As a new investor, Qatar Solar is expected to acquire a 29 percent stake in the financially reformulated company. Through private investment, Asbeck will acquire a 19.5 percent stake. A 5 percent holding of the (existing) shareholders after the implementation of the capital increase in kind remains unaffected.
About SolarWorld
SolarWorld manufactures solar power systems and in doing so contributes to a cleaner energy supply worldwide. The company, located in Bonn, employs approximately 2,500 people and carries out production in Freiberg, Germany, and Hillsboro, USA. From raw material silicon to the solar module, SolarWorld manages all stages of production ‒ including its own research and development. Through an international distribution network, SolarWorld supplies customers all over the world with solar modules and complete systems. The company maintains high social standards at all locations across the globe, and has committed itself to resource- and energy-efficient production. SolarWorld has been publically traded on the stock market since 1999. More information at www.solarworld.de/en.
Featured Product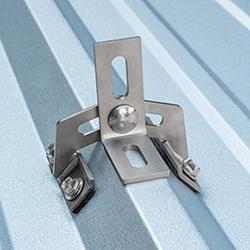 Error-Proof Compression: The QB2 doesn't leave any room for user error when it comes to Microflashing® compression. Once the Dual Drive Shoulder Screw is secured, the Microflashing® is compressed. Only 3 Components: The QB2 is comprised of Microflashing®, an L-foot and a Dual Drive Shoulder Screw. No more Nuts needed to tighten and secure the L-foot! Not only does this simplify the installation process, it also cuts down the installation time.