Clean Energy Collective dedicates power from new community solar garden to Denver Housing Authority
DENVER, COLO. – (August 9, 2013) Low-income residents in Denver, Colo. will soon receive clean, locally-produced energy thanks to a new partnership between solar garden developer Clean Energy Collective (CEC) and the Housing Authority of the City and County of Denver (DHA). Under the new Community Solar Low-Income Residential Program, CEC will devote a portion of the power produced by three community solar facilities serving Xcel Energy's Denver County customers, offsetting the electric bills for approximately 35 families living in DHA facilities.

Five percent of the power produced by each of the three community solar arrays CEC has in the queue for development in Denver County is earmarked for the DHA program, equating to 70kW, or about 100 panels from each array. According to CEC, this will generate more than $7,700 in bill credits for DHA housing residents in the first year and nearly $230,000 over the 20-year program.
Historically, renewable energy has been out of reach for the majority of people because of significant obstacles, including a large upfront cost, shaded or unaccommodating roofs, or they rent their properties. Clean Energy Collective's community solar model removes those barriers by delivering clean power through medium-scale, locally-sited solar facilities collectively owned by participating utility customers, and providing credit for the power produced directly on panel owners' utility bills.
"We're very proud of this new partnership with DHA and the opportunity to provide clean, locally-made energy to several Denver families, many of whom may be facing greater challenges than reducing their carbon footprint," said Tom Sweeney, CEC's chief operating officer.
Housing Authority owns and/or manages affordable housing units in the City and County of Denver, serving the residents of Denver.
"This is a great partnership with CEC, it demonstrates a creative way to bring environmentally friendly, low cost renewable energy to serve low-income residents," said Ismael Guerrero, DHA Executive Director. "DHA benefits because we don't disrupt our buildings or daily operations and residents will receive a direct credit on their monthly bill, thus saving money every month."
CEC is building 11 community solar arrays as part of Xcel Energy's Solar*Rewards Community program to serve Colorado customers in Denver, Boulder, Jefferson, Arapahoe and Summit counties, and the City of Aurora. Boulder's first array is currently online and supplying power, while Denver's Denver/Lowry Solar Array (Hanger 2) is anticipated to come online this September.
About Clean Energy Collective
Colorado-based Clean Energy Collective is a developer of community-based renewable energy facilities and a national leader in community power generation. CEC pioneered the model of delivering clean power-generation through large-scale facilities that are collectively owned by participating utility customers. CEC's proprietary RemoteMeter® system automatically calculates monthly credits and integrates with existing utility billing systems, enabling all utility customers to easily have clean, renewable power credited directly on their monthly utility bills, without modifying their home or office. www.easycleanenergy.com
About Denver Housing Authority
DHA was established in 1938 as a quasi-municipal corporation with an annual budget of $160 million. DHA is one of Denver's largest subsidized landlords, serving 26,000 very low, low and middle income residents and middle income residents and managing over 11,000 units located throughout the city. For more information go to: www.denverhousing.org
Featured Product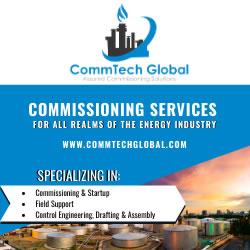 CommTech Global Solutions, LLC, provides professional and reliable commissioning services to customers in all realms of the energy industry. We blend our skills in engineering and technology with innovative business models, offering a complete range of services to assist you for a successful and in compliance operational startup. Consolidation of all our service domains gives our clients a comprehensive set of expertise and far-reaching experience on each project.