Based in Port Chester, New York, Mercury Solar Systems is one of the region's top solar companies.
LOUISVILLE, Colo., Aug. 9, 2013 -- Real Goods Solar, Inc.

(Nasdaq:RSOL), a nationwide leader of turnkey solar energy solutions for
residential, commercial, and utility customers, has signed a definitive
agreement to acquire Mercury Energy, Inc. d/b/a Mercury Solar Systems in a
merger transaction. Based in Port Chester, New York, Mercury Solar Systems
is one of the region's top solar companies.
Real Goods Solar will issue 7.9 million shares of its class A common stock,
subject to certain adjustments based on closing working capital and the
price of the class A common stock, as the consideration for the acquisition
of Mercury. The transaction is subject to the approval of the shareholders
of each of Real Goods Solar and Mercury. A representative of Mercury's
current board will be nominated to join Real Goods Solar's board of
directors.
Mercury Energy was formed in 2008. The company has installed more than
50 megawatts of solar projects that have cumulatively generated over
$250 million in revenues, including $35 million in 2012. Mercury's assets
include approximately $10 million of cash, and it has no debt.
After the transaction closes, the cash balance will be available to Real
Goods Solar for general corporate purposes and to accelerate the growth of
the combined business.
Upon closing, Mercury will bring more than 50 employees to Real Goods Solar,
including three seasoned executives: Jared Haines, Mercury's co-founder and
president, has had a successful career in sales of commercial solar systems
and was instrumental in building the Mercury Solar Systems business and
brand. Upon closing of the transaction, he will lead commercial sales in the
Northeast as vice president of sales at RGS Energy, the Commercial and
Utility Division of Real Goods Solar.
Anthony Coschigano, a co-founder of Mercury with years of solar engineering
and construction experience, will become vice president of Northeast
Operations at RGS Energy helping the combined business to further improve
all facets of systems deployment and productivity.
Andrew Zaref, Mercury's CFO and COO with more than 20 years of capital
raising and financial management experience in high-growth businesses, will
become vice president of Project Finance at Real Goods Solar, where he will
lead the company's residential and commercial financing and asset management
strategies.
"This transaction brings together two of the country's highly respected and
experienced solar companies, creating a very strong and talented team to
increase our market reach and our overall depth and breadth of
capabilities," said Kam Mofid, CEO of Real Goods Solar. "This acquisition
significantly expands our presence as a major solar solutions provider in
key solar markets across the East Coast. As an added benefit, it also
strengthens our balance sheet with additional working capital that we expect
to use to further accelerate growth in key markets across the country."
Haines commented: "Mercury's years of industry experience in designing and
installing solar systems, including nearly 2,000 solar installations of
varying complexity and size for commercial, residential and utility
customers, is highly complementary to the business of Real Goods Solar. As
we join forces with Real Goods Solar, our combined size, scale, and
financial resources will enable us to increase not only our customer
acquisition and project development capabilities, but to do so while
bringing to our customers more comprehensive end-to-end solutions, including
attractive project finance options."
About Real Goods Solar and RGS EnergyReal Goods Solar, Inc. (RSOL) is one of
the nation's pioneering solar energy companies serving commercial,
residential, and utility customers. Beginning with one of the very first
photovoltaic panels sold to the public in the U.S. in 1978, the company has
installed more than 15,000 solar power systems representing well over 100
megawatts of 100% clean renewable energy.
Real Goods Solar makes it very convenient for customers to save on their
energy bill by providing a comprehensive solar solution, from design,
financing, permitting and installation to ongoing monitoring, maintenance
and support. As one of the nation's largest and most experienced solar power
players, the company has 15 offices across the West and the Northeast. It
services the commercial and utility markets through its RGS Energy division.
For more information, visit RealGoodsSolar.com or RGSEnergy.com, on Facebook
at http://facebook.com/realgoodssolar and on Twitter at
http://twitter.com/realgoodssolar.
Featured Product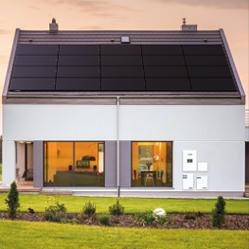 The Q.Home+ ESS HYB-G1 energy storage solution offers scalable storage capacity from 4.5 kWh up to 18.9 kWh and comes in a modular design for easy and fast installation. The system is offered in both DC-coupled and AC-coupled configurations and can connect up to 3 batteries in series using only one inverter and battery management system (BMS). The system includes an integrated backup power function for 100% of the rated inverter output to support critical loads in the event of power failure and offers remote monitoring using the QHOME+ web portal or QHOME+ ESS mobile app.