Moapa Energy will generate clean electricity for both residents of Nevada tribal lands, as well as thousands of Western utility customers; Project will provide revenue for the Moapa Band of Paiutes and Create Jobs on Tribal Lands
Moapa Band of Paiutes Enters Into Exclusive Joint Venture Partnership with Herbst Energy LLC and Stronghold to Develop Tribal Clean Energy

Moapa Energy will generate clean electricity for both residents of Nevada tribal lands, as well as thousands of Western utility customers;
Project will provide revenue for the Moapa Band of Paiutes and Create Jobs on Tribal Lands
LAS VEGAS, NV, AUG. 13, 2013 – Today the Moapa Band of Paiutes announced that it has entered into an exclusive joint venture partnership with Herbst Energy (company related to Terrible Herbst Oil Company, Nevada's largest fuel retailer), and Stronghold, the largest minority woman-owned EPC in the US, creating Moapa Energy, which will focus on the development and deployment of up to 1.5 GW of Clean Energy Tribal Generation. Through Moapa Energy, the Moapa Band of Paiutes tribe will maintain majority development ownership of all Tribal based Clean Energy Projects to be developed on Moapa Reservation Lands. Through this partnership, Moapa Energy will design and construct clean renewable energy on multiple sites located on the 70,000 acre Southern Nevada Reservation. This announcement was made as the National Clean Energy Summit 6.0 –convened by Senator Harry Reid– gets underway in Las Vegas.
"Generating clean, emissions-free solar power on our Reservation has long been a goal of the Moapa people, and is true to our heritage of environmental consciousness, respect for the Earth and reverence of our sacred lands," said Eric Lee, vice chair, Moapa Band of Paiutes. "We are thrilled to be working with Herbst Energy and Stronghold Engineering to bring this ground-breaking partnership to fruition at a time when the nearby Reid-Gardner coal plant is being decommissioned."
"Not only is Moapa Energy a win-win for all of the stakeholders, the Moapa people, Stronghold and our company, it is also a tremendous accomplishment for the entire Western region," said Troy Herbst, president of Herbst Energy. "This ambitious Joint Venture will deliver a brand new supply of clean renewable energy serving the tribe, and thousands of Nevada and California utility customers."
"Stronghold is extremely proud to be working with the Moapa people and Herbst to construct and operate this milestone portfolio of clean energy projects," noted Beverly Bailey, CEO of Stronghold. "We are excited about bringing significant tribal energy generation online in a crucial area of the West. Sited at the nexus of major transmission lines, Moapa Energy projects could provide electricity for customers of nearly every major Western utility, in Nevada and California."
"We are very honored to be working with such a diverse and unique team, and look forward to bringing economic independence, strong business development and increasing opportunities for success that will benefit current and future generations of the Moapa Band of Paiutes. Through Moapa Energy, we look forward to creating quality jobs for the Moapa Band of Paiutes tribal community," added Sandy King, Director of Renewable Energy Project Development at Stronghold.
The first project slated for development by Moapa Energy will be a 250MW solar power plant that will supply 400 million kilowatt hours of clean electrical generation annually. Power generation deliverability and scalability in response to demand will be addressed by Moapa Energy's unique hybrid development approach that bridges generation needs in the evening by utilizing gas-fired generation to complement the solar photovoltaic electricity generation during the day. The project is being developed with the assistance of the U.S. Department of Energy's Tribal Energy Program.
About the Moapa Band of Paiutes
The Moapa Band of Paiute Indians resides on the Moapa River Reservation. We are a recognized Indian tribe organized under a Constitution approved by the Secretary of the Interior on April 17, 1942. The tribal lands originally set aside in 1874 consisted of two million acres, but in 1876 it was reduced to a thousand acres. In December 1980, under the Carter Administration, an additional 70,000 acres were provided. The current total land base is 71,954 acres. The tribe's primary business enterprise centers on the Moapa Paiute Travel Plaza, which includes a casino, convenience store, cafe, gas station, and firework store with the largest and most comprehensive selection of fireworks in the West. Tribal Council governs the tribe.
About the Herbst Companies
Terrible Herbst, founded in 1938 and headquartered in Nevada is the largest fuel retailer in Nevada with over 100 locations statewide and over 2,000 team members. Herbst companies possess a breadth of history, experience and knowledge in management, retail, hospitality, construction and casino development.
About Stronghold Engineering, Inc.
Since 1991, Stronghold has provided its clients with full service construction support, including design build, engineering-procurement-construction (EPC), vertical, civil and high voltage electrical construction. Operating from its Southern California headquarters, the Stronghold Engineering, Inc. team is able to reach nationally and internationally.
contact: SusanDV@aol.com
Featured Product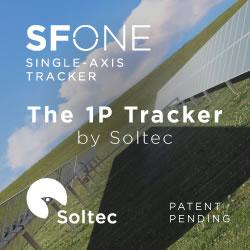 Soltec manufactures and supplies solar trackers designed and proven for extreme climate conditions, which is an ideal solution for any region's environment. Soltec's trackers are self-powered, requiring no additional PV module or grid-powered connection. Bifacial modules collect energy on both the front and rear sides, capturing reflected irradiance from the ground surface under and around the tracker and from other modules. Depending on site conditions, bifacial yield-gain can reach +30 percent.