Solar and wind power accounted for 80% of Australia's renewable energy in 2012---- India expected to deploy 20,000 MW of solar power by 2022
LONDON, UK (GlobalData), 20 August 2013 - Powered by policy support from the government, India and Australia will increase their share of renewable energy projects in the near future, while China will remain the largest market in the Asia-Pacific region, says research and consultancy firm GlobalData.

According to the company's latest report*, Australia's cumulative installed capacity for renewable power surged from 849 MW in 2001 to 5,968 MW in 2012. The cumulative share of solar and wind power accounted for 80% of the country's total renewable power capacity in 2012, growing at a Compound Annual Growth Rate (CAGR) of 41%.
India has also invested heavily in solar energy, with the government expecting to deploy 20,000 MW of solar power by 2022. Furthermore, it aims to increase the capacity of grid-connected solar power generation to 1,000 MW by 2013 and 3,000 MW by 2017, through mandatory use of renewables by utility providers.
Due to a rising number of new installations, China will remain the leading industry for renewable energy in the Asia-Pacific region, while retaining its position as the largest wind power market in the world with 75.6 GW installed capacity in 2012.
Additionally, favourable government policies and incentives in the Asia-Pacific region have become an important tool to boost the renewable energy industry, says Swati Singh, GlobalData's Analyst covering Power.
"Most countries are supporting renewable sources in order to aid recovery from the economic downturn. Renewable Portfolio Standards (RPS) and Feed-In Tariffs (FITs) are the two most prominent support mechanisms implemented by countries that are driving renewable energy market development," says Singh.
Other incentives, such as capital subsidies, grants, rebates, tax credits and exemptions, as well as reduced-rate loans, are also being offered by these countries to help further promote the use of renewable power.
*Asia-Pacific Renewable Energy Policy Handbook 2013
Featured Product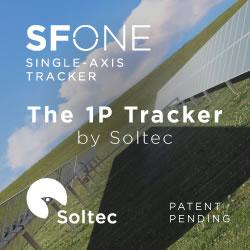 Soltec manufactures and supplies solar trackers designed and proven for extreme climate conditions, which is an ideal solution for any region's environment. Soltec's trackers are self-powered, requiring no additional PV module or grid-powered connection. Bifacial modules collect energy on both the front and rear sides, capturing reflected irradiance from the ground surface under and around the tracker and from other modules. Depending on site conditions, bifacial yield-gain can reach +30 percent.