Microalgae are considered as the "raw material source for the future."
On 22 May 2013, in Koethen, Germany, the new pilot plant for the production of microalgae biomass (microalgae platform) was formally put into operation. The Anhalt University of Applied Sciences and GICON presented the latest activities of the Biosolar Center in the field of microalgae biotechnology at the event, which was also attended by the Minister President of Saxony-Anhalt, Dr. Reiner Haseloff.

In 2011, the President of the Anhalt University of Applied Sciences, Prof. Dieter Orzessek, and the CEO of GICON - Grossmann Ingenieur Consult GmbH (GICON), Prof. Jochen Grossmann - in the presence of the then Minister of Culture, Prof. Dr. Birgitta Wolff and Dr. Reiner Haseloff – signed a cooperation agreement to build a biosolar center in Koethen. Objective of the agreement is to concentrate the activities of the university, GICON and other partners toward developing and marketing internationally-competitive solutions in biosolar technology. Biosolar technology refers to technologies for the production of microalgae biomass by photobioreactors that are largely carbon neutral and which do not stand in competition with the use of agricultural land for food production.
Microalgae are considered as the "raw material source for the future." From their biomass, both active ingredients and reusable materials for the pharmaceutical, cosmetics and food industry, as well as a variety of fuels and carbon compounds which are currently still derived from petroleum can be produced. Industrial utilization of microalgae has not yet been undertaken to a large degree due to the lack of productivity and effectiveness in existing photobioreactor systems as well as a lack of cost-effective processing technologies.
The existing utilization of algae is today focused on a few algae species that are marketed as dietary supplements and as animal feed. Hundreds of thousands of strains have not yet been examined - a huge potential for the Biosolar Center in Koethen due to the advancement of GICON photobioreactor technology, developed as part of a joint research project, and which was built at Anhalt University of Applied Sciences in Koethen from 2010-2011.
Together with Wacker Chemie AG, a silicone double-tube system with inner temperature-control tubing was developed for the new reactor, which enables higher biomass productivity and which provides greater flexibility in the choice of reactor location. This photobioreactor technology, based on the "Christmas tree" biomimetic principle, was chosen by the German Center for Research and Innovation in New York City as the Innovation of the Month for May 2012.
With the construction of the microalgae platform in Koethen 2012-2013, the Anhalt University of Applied Sciences and GICON have entered a new phase of their successful cooperation. With support from the German federal government and the EU, a modular photobioreactor platform of four advanced "Christmas trees" reactors, whose various system operation modes enable a systematic investigation of a large number of process parameters, was built at the university in cooperation with GICON. One of the goals is to develop an automation concept for large reactor systems which allows for advance, predictable control of important process parameters.
When the automation concept is complete and with the help of simulation models and efficient sensor technology, the algae cultivation process, including temperature control processes, pump energy and CO2 input based on weather forcasts will all be automatically controlled, thus allowing optimal growth conditions and process-stable biomass production at high yields. The productivity of the new system, in standard size at a operational time of 200 days / year, should produce approx. 130 kg of dry biomass per year. This represents an astounding value that doubles productivity achieved in existing systems. The algae platform also serves as a research base for the construction of a demonstration plant that uses the biorefinery concept and, through coupling with biogas technology, offers competitive solutions for the energy and chemical industries.
According to Prof. Carola Griehl, head of Algae Biotechnology at the Anhalt University of Applied Sciences, "The new microalgae platform now allows a unique opportunity in Germany to take laboratory results obtained from basic research and transfer those to industrial application". CEO of GICON, GmbH Prof. Jochen Grossmann, adds, "Thus, new innovative products and applications can be developed in cooperation with the regional economy". Above all, potential applications appear in the nutrition industry, which in the form of functional food research is already being investigated by various consortia in Central Germany, the aminal feed / aquaculture industry, the Central German cosmetics and pharmaceutical industries and the potash and energy industries.
Background:
Technologies developed that produce fuel, petroleum-based products (such as plastics, paints, cosmetics, raw materials, etc.) and food / animal feed at market conditions with low C02 emissions will play a key global and regional role in the future. This includes micro-algal biotechnology. Microalgae are the fastest growing plants on the planet, and synthesize their biomass with the help of sunlight and CO2 from the air. Algae are many times more effective than land-based plants at adding biomass, without taking up agricultural land area. Many microalgae have high lipid / oil content and thus have the potential to advance to the major leagues of fuel suppliers and to play an important role in tomorrow's supply of oil. The production of biofuels from algae could serve as an engine for the establishment of microalgae biorefineries. This requires the development of improved processing technologies, which will also be explored at the Biosolar Center in Koethen.
So far, the number of companies and research institutes / universities in Germany that are involved with microalgae biotechnology is relatively low. GICON GmbH (CEO: Prof. Jochen Grossmann), based in Dresden and with several offices throughout Germany (approx. 450 employees) develops, designs, and realizes production facilities including biogas, wind and algae as a general contractor. GICON's office in Wolfen (Saxony-Anhalt), which arose from BISANTECH Nuova (CEO: Dr. Fritz Cotta), built the world's largest tubular algae production facility in Kloetze, Germany. The Anhalt University of Applied Sciences (Head of Algal Biotechnology: Prof. Carola Griehl) is also considered one of the leading institutions in this field.
With the commissioning of the microalgae platform at the Anhalt University of Applied Sciences in Koethen and cooperation with GICON as a market leader in photobioreactor construction and other partners in the region, Saxony-Anhalt is developing into an important center of German biosolar technology that could act as a catalyst for economic development in central Germany.
The Biosolar Center headed by Prof. Carola Griehl (Anhalt University of Applied Sciences) and Dr. Fritz Cotta (GICON). With currently 13 externally-funded staff of Anhalt University of Applied Sciences and three employees of GICON as well as an excellent laboratory and technical equipment, Prof. Griehl and Dr. Cotta preside over a very good knowledge base and research infrastructure. The researchers who have come from other German states to Koethen have brought with them many years of experience in microalgae cultivation and production. With the addition of Dr. Martin Ecke, the former CEO of the world's largest tubular glass production plant in Kloetze (Roquette Kloetze GmbH), an internationally-renowned expert in microalgae production and entrepreneurship has also added talents to the Biosolar Center staff.
Featured Product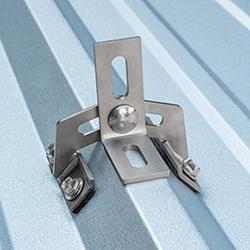 Error-Proof Compression: The QB2 doesn't leave any room for user error when it comes to Microflashing® compression. Once the Dual Drive Shoulder Screw is secured, the Microflashing® is compressed. Only 3 Components: The QB2 is comprised of Microflashing®, an L-foot and a Dual Drive Shoulder Screw. No more Nuts needed to tighten and secure the L-foot! Not only does this simplify the installation process, it also cuts down the installation time.