Walsh Carter's Newest Product, SolarShield, Combats the Unavoidable
SAN FRANCISCO, Calif. — August 21, 2013 — What if the sun doesn't shine? For the first time, a revolutionary insurance product answers a question bankers continually ask when approached to finance solar projects. Walsh Carter & Associates Insurance Services, LLC (Walsh Carter) spent more than three years carefully creating SolarShield in direct response to growing concerns among financers about investing in commercial solar projects. SolarShield is the first true performance warranty that will guarantee the minimum revenue generated by solar photovoltaic (PV) systems in the event of production shortfalls.

"We are proud to offer the only true performance warranty for the solar industry backed by a highly rated carrier. Unlike the others, claims do not require proof of negligence or defect on the part of the system developer," said David Saisi, Vice President of Business Development within Walsh Carter's solar practice. "Ours is a simple policy that acts as a backstop for financial institutions that are concerned about system performance. Our policy will make up any lost revenue due to system underperformance and it names the bank or financial backer as the loss payee for any claims."
SolarShield expands upon Walsh Carter's existing solar product called Total SPF Solar Protection Package — which offers comprehensive coverage for fiscal risks associated with all phases of commercial solar energy projects, including liability or property damage.
Other differentiators about the Walsh Carter products include:
* Multi-year policy of three years (other companies only offer renewable one year policies).
* Financial institution named as the "loss payee" (when there is a claim, the financier receives the check from the insurance company).
* A large volume of solar business allows Walsh Carter to negotiate the lowest rates available for clients.
"Solar insurance is a very specialized field that requires a depth of knowledge about the many fiscal issues associated. The Walsh Carter team has proven invaluable throughout our direct involvement with the financing, construction and operation of PV arrays since our company's beginning," said Luigi Resta, Chief Executive Officer of Scatec Solar North America, Inc.
SolarShield's renewable three year performance warranty program provides an affordable insured guarantee. Underwritten by a highly respected carrier with AM Best "A" and S & P "A+" ratings, this program is consistent with the requirements of many financial institutions, statutory energy funds and investment groups to provide a comprehensive insured performance warranty as part of the financing conditions.
The warranty directly guarantees the backing financial entity restitution and debt service payments in the event of any production shortfall. Examples of covered losses include extended inclement weather, premature deterioration of system components, poor workmanship causing reduced output and any temporary sky obstruction such as smoke from a forest fire or volcanic action. The only items not covered are regulatory actions requiring the equipment to be shut down pending safety checks and/or resolution of permitting or interconnect issues. The SolarShield program covers up to 85 percent of the rated output, with a 14 day time element deductible.
ABOUT WALSH CARTER & ASSOCIATES INSURANCE SERVICES, LLC
Walsh Carter & Associates Insurance Services, LLC provides its clients with stability and financial strength by ensuring its programs are underwritten by solid companies that are rated AM Best "A" or better. The company's tailored approach to solar risk management is a direct product of a highly experienced team of professionals with expertise in engineering, property and casualty coverage, statistical finance and marketing who by definition become the Solar Risk Management Team for clients.
For more information please call Jim Riley or David Saisi at (415) 217-6200 or email jriley@walshcarter.com, dsaisi@walshcarter.com or visit www.insurancespf.com.
Featured Product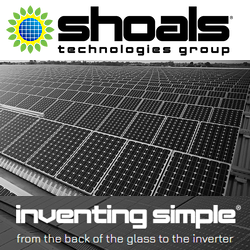 Inventing Simple® isn't just a slogan to us, it's a way of life. Using simple plug-and-play ideology, we revolutionized solar installations in 2003 with our Interconnect System™. Our harnessing system is now the gold standard EPC's use around the world. By using simple ideas, we are making solar energy a more affordable and clean power source for future generations.