Golden Eagle Distributors, Inc. and Trillium CNG™ host ribbon cutting at new station
Tucson, AZ (August 22, 2013) – Golden Eagle Distributors, Inc. and Trillium CNG hosted a green ribbon cutting ceremony today to officially open the first public-access compressed natural gas (CNG) fueling station in Casa Grande. The station is located on Golden Eagle's property at 1000 N Jefferson.

Compressed Natural Gas is one of the cleanest fuels currently available for use in vehicles. Its use in heavy duty trucks reduces particulate matter emissions to up to 86 percent, carbon monoxide emissions by 80 percent, nitrogen oxide emissions by up to 32 percent, and carbon dioxide emissions by 25 percent. As an additional benefit, CNG offers cost savings compared to traditional fuels and runs quieter than diesel trucks.
The public fueling station will refuel Golden Eagle's local fleet of 5 compressed natural gas heavy duty vehicles as well as sell CNG to other commercial fleets and be open to the public. This station will provide the needed infrastructure for individuals and businesses to consider CNG for their vehicles.
"This is a great day for Golden Eagle and Casa Grande. We are excited to provide this new infrastructure to the Casa Grande community," said Christopher Clements, CEO, Golden Eagle Distributors, Inc. "Through our partnerships with Ryder and Trillium, we are able to take advantage of both the cost and environmental savings of converting our heavy duty fleet to CNG. Now that CNG fuel will be available in Casa Grande, other businesses and individuals can truly consider CNG as a viable alternative fuel for their fleets."
Principals from Golden Eagle, TrilliumCNG, and Golden Eagle's fleet partner Ryder System, along with Casa Grande Mayor Bob Jackson, Congressman Paul Gosar, and Arizona Representative TJ Shope, and other civic, community and sustainability leaders, attended a ribbon-cutting ceremony and demonstration of the new facility Thursday at Golden Eagle's 1000 N Jefferson, Casa Grande location.
"We are excited to support Golden Eagle in their pioneering efforts to make use of a clean, domestic and abundant resource - natural gas fuel," said Mary Boettcher, President, Trillium CNG. "The new station opening will provide more opportunity for other businesses in Casa Grande to choose CNG."
The CNG fueling station and local CNG vehicles are part of Golden Eagle's broader sustainability efforts in Arizona. This is Golden Eagle's second public-access CNG fuel station. This first opened last fall at their headquarters' property in Tucson. Golden Eagle currently operates 28 CNG heavy duty vehicles which deliver 450 different beers and other beverages to over 1,700 retailers.
In 2012, Golden Eagle's industry leading fleet sustainability efforts were recognized by Beverage World Magazine as 2012 Fleet of the Year and by NGVAmerica with their 2012 NGV Achievement Award. Also last year, Golden Eagle was recognized by the Better Business Bureau with the Good Neighbor Award for their environmental and community service contributions. In 2010, the company was recognized as Arizona's Greenest Workplace by Mrs Green's World, a website that promotes sustainability.
About Trillium CNG
Trillium CNG is a leading provider of compressed natural gas facility design, construction, operation and maintenance that specializes in fueling heavy-duty fleets that require high-performance solutions. Additional information can be found at www.TrilliumCNG.com.
Trillium CNG is a business unit of Integrys Transportation Fuels, LLC, which holds the CNG business activities of Integrys Energy Group (NYSE: TEG); a Fortune 1000 company. More information about Integrys is available at www.integrysgroup.com .
About Golden Eagle Distributors, Inc.
Golden Eagle Distributors, Inc. has been the exclusive distributor of Anheuser-Busch products, as well as other craft beers and imports across most of Arizona since its creation in 1974. The third-generation company is owned by the Clements Family and is headquartered in Tucson with offices in Buckeye, Casa Grande, Flagstaff, Globe, Show Low, and Tempe, Arizona.
For more information about Golden Eagle Distributors, Inc. please visit www.gedaz.com and www.facebook.com/goldeneagledistributors.
Featured Product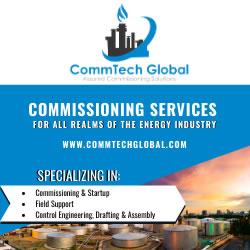 CommTech Global Solutions, LLC, provides professional and reliable commissioning services to customers in all realms of the energy industry. We blend our skills in engineering and technology with innovative business models, offering a complete range of services to assist you for a successful and in compliance operational startup. Consolidation of all our service domains gives our clients a comprehensive set of expertise and far-reaching experience on each project.