EcoPlexus-developed Facility Eligible for Power Purchase Under Schedule E-SRG
SAN FRANCISCO, Aug. 22, 2013 -- ReneSola Ltd ("ReneSola") (NYSE: SOL), a leading brand and technology provider of solar photovoltaic ("PV") products, today announced the completion of a 2MW solar PV facility using ReneSola panels in Jamestown, California by San Francisco-based solar developer EcoPlexus Inc. The project's energy is contracted to Pacific Gas & Electric (PG&E) under a 20-year power purchase agreement under the Schedule E-SRG tariff.

The single-axis tracking system incorporates 6,480 Renesola 300 Watt panels. "EcoPlexus has completed 40 municipal, commercial, and utility scale projects in California, and we are pleased with the overall value proposition provided by Renesola. The Renesola team provided outstanding service and responsiveness and we look forward to working with them on subsequent projects," said Erik Stuebe, president of EcoPlexus.
President of ReneSola America, Mr. Kevin Chen, said, "We recognize the strict standards EcoPlexus requires for suppliers of its solar projects, and we are pleased to be equally recognized as a high-quality module manufacturer meeting its stringent expectations. Meeting such expectations demonstrates the reliability and quality of ReneSola products, and exemplifies the strong relationship we are continuing to develop with this esteemed developer. We are very pleased to be providing our high-performance modules to this facility, and look forward to future project collaboration with EcoPlexus."
About ReneSola
Founded in 2005, ReneSola (NYSE: SOL) is a leading brand and technology provider of solar PV products. Leveraging its proprietary technologies, economies of scale and technical expertise, ReneSola uses in-house virgin polysilicon and a vertically integrated business model to provide customers with high-quality, cost-competitive products. ReneSola solar modules have scored top PVUSA Test Conditions (PTC) ratings with high annual kilowatt-hour output, according to the California Energy Commission (CEC). ReneSola solar PV modules can be found in projects ranging in size from a few kilowatts to multi-megawatts in markets around the world, including the United States, Germany, Italy, Belgium, China, Greece, Spain and Australia. For more information, please visit www.renesola.com.
About Ecoplexus, Inc:
Founded in 2008 with offices in San Francisco, New York, Dallas, and Tokyo, Ecoplexus develops and operates distributed generation solar PV projects for the wholesale distributed generation and retail net metering markets. The Company develops and finances projects in the 1 – 20 MW size range per project. The Company has constructed over 40 projects to date and is currently developing a project pipeline exceeding 200 MW in the U.S. and approximately 30 MW in Japan.
Ecoplexus' U.S. project portfolio includes projects for PG&E and SDG&E in California, Xcel Energy in Colorado, Georgia Power, and PSE&G in New Jersey, among others. The Company also currently provides Operation and Maintenance (O&M) services for investor/owners, including two (2) Fortune 500 companies, for approximately 40 projects.
Featured Product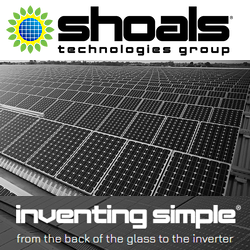 Inventing Simple® isn't just a slogan to us, it's a way of life. Using simple plug-and-play ideology, we revolutionized solar installations in 2003 with our Interconnect System™. Our harnessing system is now the gold standard EPC's use around the world. By using simple ideas, we are making solar energy a more affordable and clean power source for future generations.