Efacec first to receive certification allowing its DC fast chargers to serve all cars in US that allow fast charge
Norcross, Ga. (August 2013) – Efacec is the first company to receive ETL certification for the latest SAE Combo fast charging standard, which will power American and European vehicles. This means the units will now be able to serve all electric plug-in vehicles available in the U.S. that are capable of receiving a DC Fast Charge.

"This goes a long way toward resolving the 'VHS/Betamax'-type issue, where Japanese-made cars require one type of charger, and American/European cars require another," said Jorge Guerra, Efacec's Chief Operating Officer for North America. "Efacec is now the first DC Fast Charger manufacturer to obtain ETL certification for the SAE Combo DC Fast Charge standard. Our new combo fast charger can now serve both systems."
Efacec's chargers are now certified for the newest U.S.- and European-produced electric cars. The newer SAE J1772 Combo services only one car now available in the U.S., the Chevrolet Spark EV, but BMW and Volkswagen plan to release vehicles in 2014 that will also accept this type of DC Fast Charge.
Efacec is already certified for fast-charging Japanese cars, including Nissan and Mitsubishi, which use the CHAdeMO system. With the ETL certification on the SAE Combo standard, Efacec now has available DC Fast Chargers with two connectors – one for CHAdeMO and one for SAE. It first introduced the dual connector model last year at the EVS26 Exhibition in Los Angeles, CA.
"Being able to find charging stations is important to the adoption of electric vehicles," said Mike Anderson, Efacec's EV Chargers Sales Manager. "People don't want to worry about being away from home and running out of juice. To be first with dual connector capability is a victory worth celebrating."
The QC50 Fast Chargers power-up gasoline-free plug-in vehicles in under 30 minutes, compared with Level 1 and Level 2 AC chargers, which can take several hours. The Efacec fast chargers are made at the company's U.S. headquarters in Norcross, Ga. and also at its factory in Maia, Portugal.
About Efacec
Group Efacec, formed in 1948, is a leader in the field of electricity. Based in Portugal, it employs more than 4,600 people in 65 countries. Efacec has been serving U.S. customers since 1998. In 2007, Efacec established its headquarters for North America in Norcross, Ga. Its North American operations include three companies: Efacec USA, Inc., Efacec Power Transformers, Inc., and Efacec Advanced Control Systems, Inc. (ACS.) More information is available at www.efacecusa.com.
Featured Product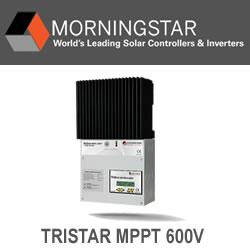 Morningstar's TriStar MPPT 600V charge controller leverages Morningstar's innovative TrakStar™ MPPT technology and our 20+ years of power electronics engineering excellence, to enable the widest input operating voltage range available from a solar array, wind turbine or hydro input. This controller's standard and DB versions are for off-grid applications, and the TR versions were developed to enable retrofitting grid-tied systems with battery backup.