Mendocino Transit Authority becomes first in nation to buy and install solar system through local-government solar-purchasing cooperative
Camarillo and Santa Rosa, Calif., Aug. 23, 2013 – Gaia Energy Systems, a full-service solar design and installation firm based in Northern California, has installed 18 kilowatts of SolarWorld solar panels at the headquarters of the Mendocino Transit Authority (MTA) in Ukiah, Calif. The project is the first in the nation to take advantage of a renewable-energy group-buy program for local government agencies.

The program, Helping Governments across the Country Buy (HGACBuy), allows participating local governments to reduce the cost of going solar by sharing procurement contracts, pooling technical expertise and leveraging economies of scale. By using HGACBuy's new renewable-energy contracting vehicle – which launched in early 2013 – to procure its solar array, MTA avoids issuing an individual RFP, saving time, staff resources and money.
"As a government solar contractor, we have seen the inefficiency and expense of the usual procurement process," said Kate Collins, CEO of Gaia Energy Systems. "Having the ability to bring our government customers an easy, cooperative-purchasing solution, which alleviates the cumbersome nature of the procurement system, is an incredible benefit."
Gaia helped MTA access HGACBuy through its relationship with SolarWorld, the program's top-ranked supplier of solar panels, systems and engineering and construction services. SolarWorld is the only HGAC-approved supplier to produce high-quality solar cells and panels entirely on American soil. As a SolarWorld Authorized Installer, Gaia is an approved subcontractor under SolarWorld's HGAC contract.
"We appreciate having access to quality American-made solar panels at attractive prices. We thought the application process was straight-forward and reasonably fast," said Dan Baxter, general manager for MTA.
The project is Gaia's third solar installation for MTA, which provides transit service throughout 2,800 square miles of coastal and inland Mendocino County. The third system is comprised of 66 American-made SolarWorld solar panels mounted atop a bus shade structure near the agency's administrative building. MTA plans to work through HGAC and Gaia to cost-effectively procure additional solar capacity in the future.
"SolarWorld's inclusion in the HGACBuy program is bearing fruit for our Authorized Installers and their government customers," said Kevin Kilkelly, president of SolarWorld Americas. "Our partners pursue solar installation through HGAC knowing that our solar systems have been pre-qualified and competitively priced for use in government projects."
HGACBuy is composed of more than 6,100 local and state government agencies and nonprofits in 47 states, including cities, counties, utilities, community colleges, universities, school districts, transportation agencies, port authorities and fire protection districts. On behalf of its members, HGACBuy reviews and selects products, such as solar systems, that require detailed technical specifications and procurement through a public, competitive bid process.
About Gaia Energy Systems
Gaia is a woman-owned small business (WOSB) that specializes in government solar installations. Gaia has been designing and installing solar for over 19 years in Northern California with offices in Willits and Santa Rosa. Gaia is a full-service engineering, procurement and construction firm with full operation-and-maintenance services. The company has installed over 2.2 megawatts of government solar systems, including health centers, schools, Army Corp of Engineers jobs, Transit Authority facilities, National Parks and government funded low-income housing projects. Gaia has teamed with Empower America to train and employ U.S. veterans on its solar installations. More information at www.gaiaenergysystems.com.
About Mendocino Transit Authority
Mendocino Transit Authority has provided public transit services for Mendocino County since 1976. MTA's service area encompasses about 2,800 square miles and provides a diverse system of long-distance, commute and local-fixed routes, plus two Dial-A-Rides and one Flex Route. MTA serves a population of nearly 90,000. MTA's mission is to provide safe, courteous, reliable, affordable and carbon-neutral transportation services. More information at www.mendocinotransit.org.
About SolarWorld
SolarWorld AG manufactures solar power systems and in doing so contributes to a cleaner energy supply worldwide. The company, located in Bonn, employs approximately 2,500 people and carries out production in Freiberg, Germany, and Hillsboro, USA. From raw material silicon to the solar module, SolarWorld manages all stages of production ‒ including its own research and development. Through an international distribution network, SolarWorld supplies customers all over the world with solar modules and complete systems. The company maintains high social standards at all locations across the globe, and has committed itself to resource- and energy-efficient production. SolarWorld has been publicly traded on the stock market since 1999. More information at www.solarworld-usa.com.
Featured Product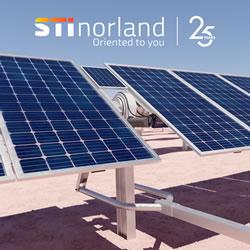 Developed in 2017, the STI-H250™ is consists of two linked torsion beams that rotate simultaneously following the sun's path. They are moved by just one motor, cutting supply and maintenance costs. STI-H250™ dual-row tracker includes backtracking mode to avoid shadowing between adjacent rows and stow function to protect the tracker in extreme wind conditions. For cleaning, vehicles can pass between trackers and each row can be placed in a different position.