New Facility Will Service the Valley and Environs, Brings Jobs to the Region
CHATSWORTH, Calif., Aug. 22, 2013 -- SolarCity(R)

(Nasdaq:SCTY), a leading provider of clean energy, has opened its first
operations center in the San Fernando Valley to accommodate customers as far
north as Santa Barbara County. The 16,800 square-foot facility is staffed by
61 full-time employees today, and SolarCity currently has
15 job openings at this location. SolarCity already has approximately
2,000 customers in the San Fernando Valley. The company has also begun or
completed projects to provide solar power to some 60 school facilities
within the Los Angeles, Glendale and Simi Valley Unified School Districts,
and will be providing solar electricity to the headquarters of the Las
Virgenes-Triunfo Municipal Water District within the next year.
SolarCity's new Chatsworth location was inaugurated today with a
ribbon-cutting ceremony attended by staff of Rep. Brad Sherman (D-Sherman
Oaks), Senator Fran Pavley (D-Agoura Hills), who presented SolarCity with
her annual Sustainability Award recognizing a business, person or
organization dedicated to preserving the environment by living and working
responsibly, and Los Angeles Councilmember Mitchell Englander.
"We are happy to see private enterprise bring jobs as well as clean air to
Chatsworth and the entire San Fernando Valley region," said Sherman.
"We continue to do all we can in Washington to help companies like SolarCity
thrive so that our community benefits economically and environmentally."
"With the growth of companies like SolarCity, California serves as a global
example that job growth and reductions in greenhouse gas emissions can go
hand in hand," said Pavley, author of the state's landmark climate change
law, A.B. 32. "We must accelerate sustainable solutions such as solar that
put people to work in places like the San Fernando Valley and help reduce
utility bills for residents, schools and businesses."
"One way Los Angeles continues to lead the renewable energy movement is by
making it easier for companies like SolarCity to do business here,"
said Englander. "The growth of solar in our community acts as a job creator
and economic stimulus."
SolarCity has grown to become the #1 full-service solar power provider in
California and the U.S. by making it possible for customers to install solar
panels for free and pay less for solar electricity than they pay for utility
bills. More homeowners, schools, and businesses today are making the switch
to solar to reduce their electricity costs and use clean, renewable power.
"Chatsworth alone enjoys 279 days of sunshine annually, which is about
35 percent higher than the national average and makes the San Fernando
Valley ideal for solar power and the savings it brings," said Jim Cahill,
SolarCity's regional vice president of operations for Southern California.
"We're delighted to have a home in the Valley and look forward to creating
more local jobs as we expand our services for homeowners and businesses in
the region."
SolarCity was chosen earlier this year as winner of the Sustainable Business
Award by the Sustainable Business Council of Los Angeles for its outstanding
contribution to the region's green economy.
Homeowners and businesses in the San Fernando Valley who are interested in
SolarCity's services can contact the company directly at 1-888-SOL-CITY
(1-888-765-2489) for a free, no-obligation solar consultation or visit
SolarCity online at www.solarcity.com/request.
Candidates interested in available employment opportunities in the San
Fernando Valley can contact SolarCity via its online jobs form at
www.solarcity.com/jobs.
About SolarCity
SolarCity(R) (Nasdaq:SCTY) provides clean energy. The company has disrupted
the century-old energy industry by providing renewable electricity directly
to homeowners, businesses and government organizations for less than they
spend on utility bills. SolarCity gives customers control of their energy
costs to protect them from rising rates. The company offers solar power,
energy efficiency and electric vehicle services, and makes clean energy easy
by taking care of everything from design and permitting to monitoring and
maintenance.
SolarCity currently serves 14 states and signs a new customer every five
minutes. Visit the company online at www.solarcity.com and follow the
company on Facebook & Twitter.
Featured Product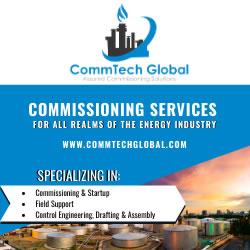 CommTech Global Solutions, LLC, provides professional and reliable commissioning services to customers in all realms of the energy industry. We blend our skills in engineering and technology with innovative business models, offering a complete range of services to assist you for a successful and in compliance operational startup. Consolidation of all our service domains gives our clients a comprehensive set of expertise and far-reaching experience on each project.