Solar Power International in Chicago, October 21-24
Solar Power International 2013

ARLINGTON, Va.--Solar Power International has announced the first of its panel of judges for the 2013 Start-Up Alley Challenge, which takes place during Solar Power International in Chicago, October 21-24. This prestigious group of solar and clean energy leaders and investors will review the business proposals of the top 12 Start-Up Alley participants, offering invaluable insight and feedback to these up-and-coming companies.
Welcome to Start-Up Alley Challenge Judges:
*Jigar Shah, CEO, Jigar Shah Consulting
*Raghu Belur, Co-Founder/ Vice President of Products & Strategic Initiatives, Enphase
*David Drescher, VP Wind & Solar, Exelon Generation
SPI plans to announce more judges, as well as the Start-Up Alley participating companies, in the coming weeks.
The deadline to participate in SPI Start-Up Alley has been extended to this Friday, August 30. Full details on the program and application process can be found at http://www.solarpowerinternational.com/conference-program/start-up-alley/
Start-Up Alley benefits include:
*Complimentary presentation space on the SPI Expo Floor
*Personal feedback for business proposals by esteemed judges
*Multiple networking opportunities with potential corporate investors and business leaders
*Special educational sessions geared specifically to start-up companies
*Public recognition through show marketing and on-site signage.
Solar Power International is powered by the Solar Energy Industries Association (SEIA) and Solar Electric Power Association (SEPA). SPI is designed to serve and advance the solar energy industry by bringing together the people, products, and professional development opportunities that drive the solar industry and are forging its bright future.
Featured Product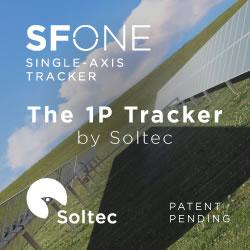 Soltec manufactures and supplies solar trackers designed and proven for extreme climate conditions, which is an ideal solution for any region's environment. Soltec's trackers are self-powered, requiring no additional PV module or grid-powered connection. Bifacial modules collect energy on both the front and rear sides, capturing reflected irradiance from the ground surface under and around the tracker and from other modules. Depending on site conditions, bifacial yield-gain can reach +30 percent.