More than 30,000 Solar Projects in the Region Use Yingli Green Energy's PV Modules
BAODING, China and SAN FRANCISCO, Aug. 27, 2013 -- Yingli Green Energy Holding Company Limited (NYSE: YGE) ("Yingli Green Energy" or the "Company"), a leading solar energy company and one of the world's largest vertically integrated photovoltaic manufacturers, which markets its products under the brand "Yingli Solar," announced today that its wholly-owned subsidiary, Yingli Green Energy Americas ("Yingli Americas"), has achieved the historic milestone of more than 1 GW of PV modules delivered to over 30,000 projects across the American continents and the Caribbean.

"As one of the only PV module suppliers with a footprint of this magnitude in the region, we are deeply appreciative to our customers for their support. And we could not have reached this milestone without our team, who consistently raise the standard for customer service and dedication to delivering quality products," commented Mr. Robert Petrina, Managing Director of Yingli Americas.
Yingli Americas' projects span the residential, commercial, and utility markets, and include more than 28,000 homes; 3,000 institutions and businesses; and 50 utility-scale projects. According to the California Solar Initiative, 1 GW of installed PV facilities would meet the energy needs of over 200,000 average American households.
Many iconic institutions in the Americas use Yingli Green Energy's PV modules, including Harvard University, Kaiser Permanente hospitals, the New York Jets team headquarters, and Rio de Janeiro's Maracana Stadium.
"Solar energy has grown in importance as an investment opportunity throughout the Americas. As the world's largest PV modules manufacturer, we are pleased to contribute to and propel the expansion of this vital clean energy source in the region and around the world," commented Mr. Liansheng Miao, Chairman and CEO of Yingli Green Energy.
About Yingli Green Energy
Yingli Green Energy Holding Company Limited (NYSE: YGE), which markets its products under the brand "Yingli Solar," is the world's largest photovoltaic module manufacturer in terms of shipments. With 2,450 MW of vertically-integrated annual production capacity, Yingli Green Energy's manufacturing covers the photovoltaic value chain from ingot casting and wafering through solar cell production and module assembly. Headquartered in Baoding, China, Yingli Green Energy has more than 20 regional subsidiaries and branch offices and has distributed more than 7,000 MW PV modules to customers worldwide.
For more information please visit www.yinglisolar.com and join the conversation on Facebook, Twitter and Weibo.
Featured Product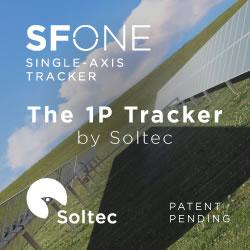 Soltec manufactures and supplies solar trackers designed and proven for extreme climate conditions, which is an ideal solution for any region's environment. Soltec's trackers are self-powered, requiring no additional PV module or grid-powered connection. Bifacial modules collect energy on both the front and rear sides, capturing reflected irradiance from the ground surface under and around the tracker and from other modules. Depending on site conditions, bifacial yield-gain can reach +30 percent.