Genscape's August 18 flyover reveals exposed pipe at ROW & uncompleted tank capacity & connections at Cushing
August 28, 2013 – Louisville, KY - Construction of the Keystone Gulf Coast Pipeline (KGCP) is slightly behind plan, according to Genscape's most recent flight on August 18. On August 20, TransCanada said construction was over 90 percent complete and that the pipe was expected to be in service by the end of this year. Genscape believes this estimate to be optimistic based on construction progress. Genscape now estimates Q1 2014 to be a more realistic in-service date. The bulk of work remaining on the project is centered on the Cushing pumping station and along the pipeline right-of-way (ROW).

At the Cushing terminal, four of the seven newly constructed tanks have hydrotested with a fifth tank currently hydrotesting. However, mixer installation and tank pipeline connections have yet to be completed for any of the seven new tanks. Genscape believes that completed tank capacity and associated connections are necessary for initial KGCP fill. The terminal, when complete, will contain 2.25mn bbls of storage capacity. For more information on TransCanada's Cushing storage facility, please refer to Genscape's North American Oil Storage service (http://info.genscape.com/cushing-8-27-13).
Exposed pipe was observed near the Tupelo, Bryan, Delta and Lake Tyler facilities. Crews were observed working on pipeline connectivity along the ROW. The Cromwell, Bryan and Winnsboro pumping stations each have four pumps installed, and pipeline infrastructure looks to be nearing completion. Ground preparation continues at the Tupelo, Delta and Lake Tyler facilities.
KGCP is a 36-inch-diameter line which will flow 485 miles from Cushing, OK, to Nederland, TX. The line will have an initial capacity of 700 Mbpd with the option to expand to 830 Mbpd. Linefill for KGCP is approximately 3.2mn bbls. Genscape estimates it will take approximately 40-60 days to fill the line at near 54-81 Mbpd fill rate. The Keystone pipeline from Hardisty, AB, to Patoka, IL, took nearly 180 days to fill in 2010 at near 50 Mbpd fill rate. Linefill for Keystone to Patoka was approximately 9.2mn bbls.
This information was sent to Genscape's MidContinent Pipeline Flow clients on August 27. Complimentary trials of all of Genscape's oil market services, including the MidContinent Pipeline Flow service, are available here: http://info.genscape.com/oil-8-27-13.
About Genscape
Genscape is the leading global provider of energy information for commodity and financial markets. Utilizing patented technologies and proprietary algorithms, Genscape provides accurate & timely data on capacities, flow and utilization for all major energy commodities. With thousands of sophisticated energy monitors strategically deployed all over the world, Genscape is unique in its ability to measure and collect energy market fundamentals. These "measured actuals" are then transmitted to clients in real-time or near real-time. Genscape clients often gain first-mover advantage and increased market transparency to better optimize their positions. For more information, please visit: www.genscape.com
Featured Product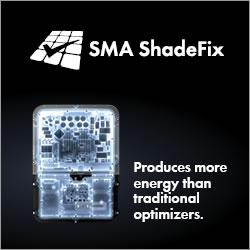 A recent university study showed SMA ShadeFix optimization produces more energy than traditional optimizers. It also utilizes far fewer components, reducing the need for costly service visits. Systems with ShadeFix optimization and SunSpec certified shutdown devices are the ideal solution for residential and commercial PV systems. Visit SMA's website to learn more and download the whitepaper.