A timely transmission grid expansion is important for the future electricity supply based on renewable energies.
Berlin, Germany, 28 August 2013 – A recent study by Ecofys energy consultants shows that even if this expansion is delayed, the planned deployment of renewables can still take place within the next 15 years. In this case, renewable energy installations would have to be distributed more evenly across the country to save costs. With successful grid expansion, however, measures have to be taken to reduce emissions from lignite production.

For the Smart Energy for Europe Platform (SEFEP), Ecofys examined the impacts of a delayed grid expansion for scenarios with a different mix of renewable energy technologies employed. With restricted grid expansion, more regional storage and flexible power plants need to be installed and renewable energy output has to be increasingly curtailed. The corresponding costs can be reduced if the renewable energy installations are distributed more evenly. "If grid expansion is delayed, about 800 million euros can be saved per year if we spread wind and photovoltaic installations more evenly across the country", says Christian Nabe, electricity market specialist at Ecofys.
The study shows scenarios for the year 2030. By then, renewable energies are supposed to have a share of 70 percent in electricity production in Germany. CO2 emissions from the electricity sector will have been reduced to a third compared to today.
An increased grid expansion does not only support renewable energies but also facilitates the transport of electricity from cheap lignite. As a consequence, additional political measures are crucial to reduce emissions from those power plants.
"The study shows that rapid expansion of renewable energies can continue. If grid expansion is delayed, we need to manage geographical distribution of renewables wisely. With rapid grid expansion, effective measures to reduce emissions from lignite become even more important", explains Raffaele Piria, Program Director at SEFEP. "These are relevant message for the next government coalition in Germany."
Ecofys – Experts in Energy
Established in 1984 with the mission of achieving "sustainable energy for everyone", Ecofys has become the leading expert in renewable energy, energy & carbon efficiency, energy systems & markets as well as energy & climate policy. The unique synergy between those areas of expertise is the key to its success. Ecofys creates smart, effective, practical and sustainable solutions for and with public and corporate clients all over the world. With offices in Belgium, the Netherlands, Germany, the United Kingdom, China and the US, Ecofys employs over 250 experts dedicated to solving energy and climate challenges.
(www.ecofys.com)
Featured Product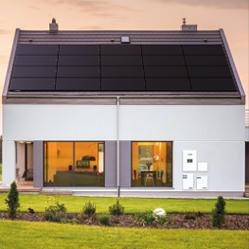 The Q.Home+ ESS HYB-G1 energy storage solution offers scalable storage capacity from 4.5 kWh up to 18.9 kWh and comes in a modular design for easy and fast installation. The system is offered in both DC-coupled and AC-coupled configurations and can connect up to 3 batteries in series using only one inverter and battery management system (BMS). The system includes an integrated backup power function for 100% of the rated inverter output to support critical loads in the event of power failure and offers remote monitoring using the QHOME+ web portal or QHOME+ ESS mobile app.