As prices of China's polysilicon spot market continue its upward ascend, it triggered price hikes in Asia's polysilicon market that in turn caused cost increases for wafer manufacturers.
Continual raw material price upticks are compressing silicon wafer manufacturers' profits. Under operation pressure, wafer manufacturers are also considering raising silicon wafer prices.

According to TrendForce, pointed out Chinese polysilicon market's continual price surge, which has shown no signs of decline, indicates a beneficial exterior environment for manufacturers operations. Therefore, price increases are unlikely to stop anytime soon. Although, the Chinese government has imposed anti-dumping duties on polysilicon imports in an attempt to increase the use of domestically produced polysilicon, Chinese polysilicon manufacturers product quality, costs, and shipment capacity still lags behind large international brands. As a result, there were no significant decreases in China's imports and purchase of raw materials. The industry still relies heavily on raw material imports. However, since China's polysilicon anti-dumping duties came into effect, the custom process period for imported raw materials has been extended. In addition, uncertainties surrounding future market development have caused suppliers to be rather passive in preparing raw materials. As a result prices in the polysilicon spot market remain high.
Besides these factors, from a current cost perspective there is still room for minor price adjustments. After EU and China reached a new agreement recently, module prices were at about €0.56/watt (US$ 0.74/watt) and has nearly become the base price used to calculate costs in the industry. By deducting module and cell manufacturing costs from this price, silicon wafer prices can be maintained at about US$ 0.3/watt. From a cost perspective, silicon wafer manufacturers still believe there is room for price adjustments. In general wafer manufacturers psychology tends to orient towards making up with price upticks since they believe they had not raised prices in the last price wave.
Featured Product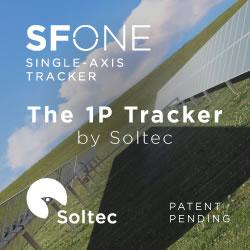 Under the slogan "engineered for greatness", the SF8 tracker aims to revolutionize the photovoltaic market with its new minimum 2x60 configuration and 4 to 6-strings. This tracker is elegantly designed while it reinforces its structure to perform in any terrain. In addition, the SF8 tracker increases the rigidity of its structure by 22% more than the previous generation of Soltec trackers, the SF7. The SF8 is specially designed for larger 72 and 78 cell modules, an increasing market trend.