Leading water treatment manufacturer launches new program to streamline offering with easier product identification and selection
AXEON Water Technologies, a leading provider of water treatment solutions, today announced the introduction of AXEON Integrated Solutions, a new program that enhances the customer experience by offering a more streamlined approach to product identification and selection.

The AXEON Integrated Solutions program is a customer-centric model that features a comprehensive offering of standardized equipment and solutions, while providing customers with the flexibility of customization for every application. AXEON's design and manufacturing capabilities provide a platform for integrating the economies of standardization with customers' unique requirements and to turn complex projects into simple end-to-end solutions. The unique flexibility of AXEON Integrated Solutions ensures that optimal water quality is achieved efficiently and economically.
"AXEON Integrated Solutions is a platform which we have taken over three years to develop," said AXEON CEO Augustin Pavel. "We test marketed it in 2010 and it was a very efficient and formal way to present our product offering and enable our customers to easily associate our products and systems with their needs, for a given application."
A key internal feature of AXEON Integrated Solutions is the enhanced production capabilities that it facilitates. Customers benefit from the accelerated delivery of AXEON's high-quality standard and custom systems and components by ensuring that their sales cycles are supported and their delivery timelines are met.
"Ultimately it cuts down the amount of time our application engineers need to work one on one with an individual or company," said Pavel. "It allows them to put together a comprehensive solution by integrating all the different types of technologies and models of systems to create a custom solution for each application."
AXEON Integrated Solutions is featured on the company's newly redesigned website, at www.axeonwater.com. AXEON customers have a streamlined user experience, with a variety of new features and benefits, including AXEON's robust online catalog, now searchable by category, brand, application, technology, water problem, service or solution.
Additionally, AXEON's expert in-house representatives are readily available to assist in designing and manufacturing ideal Integrated Solutions to overcome today's complex water treatment challenges. For more information on AXEON Integrated Solutions, please call 800-320-4074 or visit us at www.axeonwater.com.
About AXEON Water Technologies
Established in 1989 as a manufacturer of reverse osmosis water treatment products, AXEON's corporate headquarters, and its research, engineering, manufacturing and support facilities, are located in Temecula, California, USA. The company provides customers worldwide with high-quality membrane systems, elements, housings and chemicals for various markets and applications. AXEON is at the forefront of the water treatment industry, to best serve its customers and support their success with innovation, quality and support.
Contact Information:
AXEON Water Technologies
40980 County Center Drive, Suite 100
City : Temecula
County : Riverside
State : California
Zip : 92591
Post Code: CA 92591
Contact : 7607235417
Toll-Free: 8003204074
Email : sales@axeonwater.com
For more information, visit http://www.axeonwater.com
Featured Product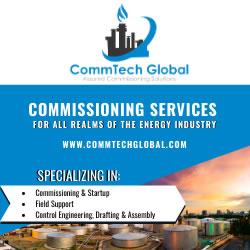 CommTech Global Solutions, LLC, provides professional and reliable commissioning services to customers in all realms of the energy industry. We blend our skills in engineering and technology with innovative business models, offering a complete range of services to assist you for a successful and in compliance operational startup. Consolidation of all our service domains gives our clients a comprehensive set of expertise and far-reaching experience on each project.