Appeals could significantly raise import duties for many Chinese solar producers
HILLSBORO, Ore., Sept. 5, 2013 – SolarWorld, the largest U.S. solar manufacturer for more than 35 years, has submitted arguments to appeal U.S. Department of Commerce determinations that the company believes weakened resulting trade remedies. In particular, SolarWorld argues that numerous Chinese solar producers failed to show they were free of Chinese government control and that Commerce wrongly undervalued aluminum frames used in Chinese solar-panel production, significantly understating antidumping duties.

"We are exhausting all avenues to engage well-established international trade law in countering China's illegal trade aggression, which continues to siphon clean-energy business and jobs from the U.S. economy," said Gordon Brinser, president of SolarWorld Industries America Inc., based in Oregon. "U.S. costs to make and deliver solar technology for the U.S.
market are lower than those of Chinese producers. Our better record of solar-equipment reliability, R&D and quality also is far longer. Moreover, we have the law – and history – on our side: Free trade is not trade without rules.
"But to fairly compete, we need our federal trade-law enforcement system to show fortitude in applying that law," Brinser said. "It is not enough to adjudicate cases without attention to the underlying industry and market realities of resulting remedies. We are still asking for these thoroughly investigated illegal trade practices to be actually stopped."
SolarWorld led the Coalition for American Solar Manufacturing, numbering about 240 U.S. solar installation, production and financial employers, in backing trade cases challenging China's anticompetitive campaign to subsidize massive overbuilding of an export-only solar industry and illegally export solar products at dumped, or artificially low, prices in the U.S. market. In late 2012, the U.S. government imposed duties ranging from about 31 percent to 250 percent.
In appeals filed with the U.S. Court of International Trade in New York, SolarWorld argues that dozens of Chinese solar manufacturers failed to show they were free of Chinese government ownership and control. Some companies, for instance, failed even to detail their ownership. In that light, SolarWorld says, these companies should not have received "separate" antidumping rates, but instead should have been subject to a China-wide rate of 250 percent.
In addition, the company's brief argues that Commerce erroneously set aside a U.S. Customs and Border Protection (CBP) ruling which determined the proper classification of aluminum frames used by one of the biggest Chinese producers in its solar panels. By failing to use the proper classification, SolarWorld argues, Commerce substantially undervalued the aluminum frames and therefore understated antidumping margins against all Chinese companies.
Chinese aluminum extrusions also are subject to substantial trade duties as a result of Chinese dumping and subsidies resulting from another case. In June, the U.S. Department of Justice announced that a federal grand jury convened in Puerto Rico had indicted five individuals and three companies on suspicion of smuggling aluminum extrusions under fraudulent documentation into the U.S. market to circumvent duties in that case.
Similarly, Commerce began investigating potential trade-duty evasion and circumvention in the solar case in April. The department asked CBP to undertake enhanced import reviews and potential enforcement based on evidence that some manufacturers and importers of Chinese-made solar panels were misreporting and underreporting their imports to evade new tariffs in the solar cases.
In particular, Commerce is investigating numerous Chinese producers who claim to use non-Chinese cells in their solar panels to ensure that their claims are accurate. Many Chinese producers have said they are legally avoiding the trade remedies by exploiting a loophole opened by Commerce when it determined that they could import solar panels duty-free if they fabricated the panels in their Chinese factories from solar cells manufactured in third countries.
SolarWorld also appealed Commerce's so-called scope ruling, which created the loophole, to the Court of International Trade. Briefing on that important issue will begin after briefing is concluded on the antidumping appeals.
About SolarWorld
SolarWorld AG manufactures solar power systems and in doing so contributes to a cleaner energy supply worldwide. The company, located in Bonn, employs approximately 2,500 people and carries out production in Freiberg, Germany, and Hillsboro, Ore. From raw material silicon to the solar module, SolarWorld manages all stages of production ‒ including its own research and development. Through an international distribution network, SolarWorld supplies customers all over the world with solar modules and complete systems. The company maintains high social standards at all locations across the globe, and has committed itself to resource- and energy-efficient production. SolarWorld has been publically traded on the stock market since 1999. More information at www.solarworld-usa.com
Featured Product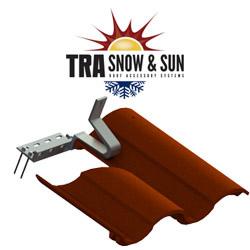 You haven't installed a tile mount that is easier to install than the Solar Tile Mount manufactured by TRA Snow and Sun. Solar Tile Mount is used on all tile roof profiles: flat, mid, and high. It is made in the USA of aluminum alloy for strength and excellent corrosion resistance. Solar Tile Mount is built to allow more ease in installation with more rise from the tile surface to the rail for better air flow below panels. The adjustable base is longer than most allowing attachment 6" to the left or right to have the bracket in the base of the pan of the tile and still fasten to the rafter. Solar Tile Mount is adjustable for counter batten systems from ¾" to 3". The horizontal rail is directly above base fasteners giving greater uplift resistance than any other system. For superior waterproofing apply TRA Snow and Sun's butyl backed VersaFlash aluminum flashing. No tile flashing is needed on top of the tile for greater labor and material cost savings.