Celestica's solar lab is a state-of-the-art facility, with experience in product testing and analysis
Toronto, Canada – Celestica Inc. (NYSE, TSX: CLS), a global leader in the delivery of end-to-end product lifecycle solutions, and TÜV Rheinland PTL, a leading provider of solar and photovoltaic (PV) testing, today announced that TÜV Rheinland PTL has audited and approved Celestica's solar lab in Toronto, Ontario, to accept testing data generated by Celestica in Toronto.

Celestica's solar lab is a state-of-the-art facility, with experience in product testing and analysis, and is capable of carrying out tests for a variety of PV standards, including UL-1703 / ULC-1703 and IEC-61215 /IEC-61730. It operates independently within the Total Quality Management System at Celestica, ensuring the integrity of test procedures and results. The solar lab's testing capabilities and quality system, aligned with TÜV Rheinland PTL's existing comprehensive regulatory compliance, testing and certification infrastructure, will decrease time-to-market for local solar customers.
"We are pleased to receive approval from TÜV Rheinland PTL on our solar lab in Toronto, helping our customers differentiate and improve the efficiency of their solar modules in the highly competitive solar market," said John Nastasi, General Manager, Solar, Celestica. "Our solar lab combined with our manufacturing and global supply chain expertise, establishes Celestica as a single source for our customers' solar module manufacturing and certification requirements."
Acceptance of data from Celestica's solar lab in Toronto helps TÜV Rheinland PTL expand its North American laboratory footprint, providing an East Coast testing solution for the North American customers. In addition to its Tempe, Ariz., location, TÜV Rheinland operates test laboratories in Bangalore, India; Gyeongsan, Korea; Cologne, Germany; Osaka and Yokohama, Japan; Shanghai, China; and Taichung, Taiwan.
"We are excited to work with Celestica, whose commitment to smart and effective solutions for its customers corresponds to TÜV Rheinland's philosophy," said Bill Shisler, Solar and Fuel Cells Business Field Manager, TUV Rheinland North America. "Together, we will provide solar testing services to manufacturers as part of a comprehensive development program – a convenient and efficient approach drawing on the strengths of Celestica and TÜV Rheinland for the benefit of our customers."
For more information about TÜV Rheinland PTL, visit www.tuv.com/us/ptl or call toll-free at 1-TUV-RHEINLAND (888-743-4652).
About TÜV Rheinland PTL, LLC
Based in Tempe, Ariz., TÜV Rheinland PTL, LLC is a leading provider of safety and performance testing and market certification serving every sector of the photovoltaic and solar thermal marketplace, from the supply chain through installation. TÜV Rheinland PTL is a unique partnership between Arizona State University, an institution with more than 50 years of research on solar energy and extensive solar testing know-how, and TÜV Rheinland®, a $2 billion global provider of independent testing, assessment, and certification services. With an international network across six continents, TÜV Rheinland® maintains the largest network of Solar Energy Laboratories worldwide, with five major laboratories on three continents. For more information, visit www.tuv.com/us/ptl.
About Celestica
Celestica is dedicated to delivering end-to-end product lifecycle solutions to drive our customers' success. Through our simplified global operations network and information technology platform, we are solid partners who deliver informed, flexible solutions that enable our customers to succeed in the markets they serve. Committed to providing a truly differentiated customer experience, our agile and adaptive employees share a proud history of demonstrated expertise and creativity that provides our customers with the ability to overcome complex challenges.
For further information on Celestica, visit its website at http://www.celestica.com.
Featured Product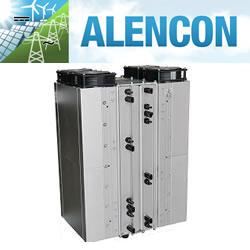 Alencon Systems is the premier manufacturer of high power, high voltage DC:DC optimizers for alternative energy applications including solar, battery energy storage, Microgrids, Fuel Cells and Electric Vehicle charging. Alencon's DC:DC converter offerings include the SPOT, BOSS and CUBE series DC:DC converters. The SPOT is a modular, uni-directional DC:DC solution ideal for solar applications. The BOSS is a modular, bi-directional unit for use with battery energy storage. The CUBE is a monolithic DC:DC converter which is available in both uni-directional and bi-directional modalities. Pictured above, is the Alencon SPOT.