Fred. Olsen Renewables (FOR) have confirmed today that Rothes II Wind Farm has commenced operation in August, providing an installed operational capacity of 41.4 MW, and equivalent to generating enough electricity to power over 20,500 homes.
The project is located adjacent to the existing Rothes Wind Farm, 20km south west of Elgin and consists of 18 x Siemens 2.3 MW turbines. The operational site takes Fred. Olsen Renewables' onshore operational portfolio[2] to 430.5 MW, representing 7%[3] of the UK's total onshore installed wind capacity or 11%[4] of Scotland's onshore installed wind capacity. A further 60MW of wind plant is either under construction or due to shortly enter construction.

FOR's overall strategy is to participate in projects from an early stage. The company is involved in site selection, planning and construction and aims to operate the projects over their lifetime. The approach is based on a successfully demonstrated full lifecycle principle.
FOR have appointed leading renewable energy consultancy Natural Power to provide operational services on the site including 24/7 control room services, NP /ControlCentre™.
David Brunt, CEO at Fred. Olsen Renewables commented: "We are very pleased to confirm that Rothes II Wind Farm construction has now concluded successfully and the site has entered into operation. Rothes I and Rothes II provide a combined installed capacity of almost 100 MW which alone represent 2.5% of Scotland's total onshore wind capacity, helping to meet the country's ambitious renewable energy targets."
These projects affirm the company's position as the UK's leading Independent Renewable Power Producer.
Featured Product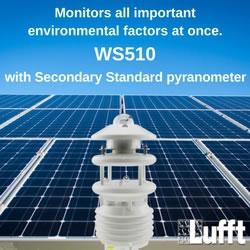 Professional weather sensors form the heart of large solar plants supporting their operation and performance. Lufft was the first manufacturer to combine several sensors in one housing, bringing the largest multiparameter weather sensor family with 19 members into being. Many of them are well-suited for solar site assessment and continuous monitoring. The most commonly used one is the WS600 delivering data on temperature, air pressure, wind, relative humidity and precipitation. Through its open protocol, it can easily be attached to radiation sensors e.g. from Kipp&Zonen. Other models have an integrated Silicon, Second Class or Secondary Standard radiation sensor.