Swinerton Renewable Energy Provides Solar Power Plant O&M Services Across North America to Maximize Owner Revenues
San Francisco, CA—September 4, 2013

As the portfolios of solar power plant owners expand in geographic scope, the task of finding O&M providers with national experience in utility-scale, multi-megawatt systems can be a daunting task. In years past, owners often had to contract with as many as 10 different regional O&M service providers. Swinerton Renewable Energy meets the demand for nationwide O&M services with true turnkey, in-house specialists and certified field technicians serving all the electric utility markets in North America.
The Technical Services Division of Swinerton Renewable Energy has a nationwide footprint, with satellite O&M offices and technicians who are OEM trained, certified, and held to safety standards that are among the most stringent in the industry. The company's O&M team prioritizes the generation of maximum revenues for plant investors and helps ensure their electric utility clients meet RPS generation requirements.
One Contact, One Call for PV Power Plant Optimization and O&M Services Across the Continent
"Our service market is wherever the sun shines in North America," explains Angelo Purpura, manager of Technical Services for Swinerton Renewable Energy. "Having a single O&M provider for an owner's many solar facility locations is not only more convenient, but also more cost effective for maintaining a fleet of plants spread out across the country." Plant owners have the added security of O&M contracts that are backed by performance guarantees and the experience of a company that has been in business for 125 years.
George Hershman, vice president of Swinerton Renewable Energy, adds, "Swinerton's strategy to maintain our industry-leading position is to invest in a team of the best-trained solar O&M technicians throughout North America. Our clients are now requesting 15-year O&M contracts for multiple plants in even the most varied and remote solar power plant locations across the country, the continent, and beyond."
About Swinerton
With over 3 GW of power generation and 630 MW of solar power expertise, Swinerton Renewable Energy offers turnkey solar power solutions for utility-scale and distributed-generation projects, including EPC and O&M services, warranty wraps, performance guarantees, and its industry-leading monitoring and SCADA platform, SOLV™. Recognized nationally since 1888, Swinerton is the preferred builder and trusted partner in every market it serves—proudly leading with integrity, passion, and excellence. For more information on Swinerton, visit its blog SwinertonBuildsTomorrow, Facebook, Twitter, Flickr and LinkedIn.
Media Contact:
Meggie Hollywood
415.984.1202
meggie.hollywood@swinerton.com
Swinerton Renewable Energy Contact:
Angelo Purpura, LEED AP
858.815.2435
apurpura@swinerton.com
Featured Product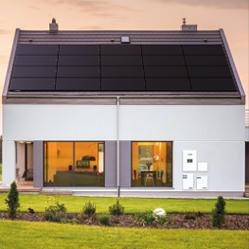 The Q.Home+ ESS HYB-G1 energy storage solution offers scalable storage capacity from 4.5 kWh up to 18.9 kWh and comes in a modular design for easy and fast installation. The system is offered in both DC-coupled and AC-coupled configurations and can connect up to 3 batteries in series using only one inverter and battery management system (BMS). The system includes an integrated backup power function for 100% of the rated inverter output to support critical loads in the event of power failure and offers remote monitoring using the QHOME+ web portal or QHOME+ ESS mobile app.