New Solar Pathway LED light installed at Harvard Park. APMFGSolar 11 watt Solar Light Operates from Dusk to Dawn with 10 day battery back up.
Solar Park Pathway LED Light.

The Solar lighting had to be designed to replace the existing large 100 watt high energy consuming lights. APMFG design the Solar application to illuminate the area and keep to the foot candle requirements.
The use of Cree LED's and special optics allowed us to achieve illumination of 5 foot candles in the center and a 30 ft diameter illumination of .25 ft candles at it's edge.
Solar Panel configuration is designed for 10 days of autonomy. The Lighting settings have 8 time settings so it can be very flexible for your lighting application. This unit is designed for Dusk to Dawn.
All manufacturing was made in America buy America. The LED Aluminum housing designed and machined by APMFG, Solar Rack and Enclosure manufactured out of Aluminum along with steel galvanized pole and base plate also made by All Purpose Mfg. Inc.
Featured Product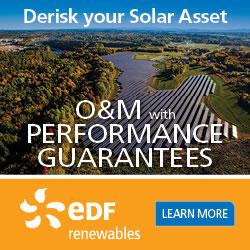 EDF Renewables offers the same innovative solutions that maximize the performance of our own 5.2 GW of installed projects. Because we're not an equipment manufacturer, our recommendations are transparent and data-driven. We cover the entire project lifecycle: from pre-commissioning support, through warranty and post warranty operation, to late stage and decommissioning.