Prothea acted as adviser to VEI Green S.r.l. on its successful acquisition of a 6MW Solar power portfolio from the English fund Good Energies, part of the Bregal Investments group.
Prothea acted as adviser to VEI Green S.r.l. on its successful acquisition of a 6MW Solar power portfolio from the English fund Good Energies, part of the Bregal Investments group.

Vei Green, fully owned by VEI Capital S.p.A., is one of the leading investors in assets producing energy from renewable source. VEI Capital S.pA. is an investment company participated by some of the leading Italian financial groups, including Palladio Finanziaria, Assicurazioni Generali, Intesa San Paolo and other Italian regional banks. Prothea supported VEI Green in the sourcing, valuation and acquisition of the project, with Lombardi Molinari e Associati acting as legal advisor.
Bregal Investments is a global family of Private Equity and Fund investment vehicles. Bregal Investments has invested over €7 billion (US$9 billion) since 2002. Funded by a sixth generation family foundation, the Bregal team brings experience, stability, and a long-term outlook to all of its investment activities. Lennox Partners LLP advised Bregal Investments on a sales process which attracted strong levels of interest from prospective investors. Linklaters acted as legal advisor to Bregal.
The solar park, composed of 6 plants operating since 3Q 2010, will generate more than 180.000 MWh, displacing more than 80.000 metric tons of CO2 across the Puglia region in Italy.
David Armanini, Managing director of Prothea, and Julian Hantrais, Co-founder of Lennox, commented on the transaction: "The European renewable energy market is getting increasingly integrated with cross-border deals becoming more and more common. Understanding the specific issues related to operating assets in European markets is critical to guarantee transaction success. Consolidation deals are expected to play a major role in reshaping the energy market in Europe and it constitutes a unique opportunity for players to strengthen their market positioning".
ABOUT US
Prothea (www.protheagroup.com) is a Milan based advisory boutique in the renewable energy industry. Prothea specializes in structuring investment opportunities in renewable energy assets (solar PV, biomass and biogas, wind and mini hydro), sourcing green-field and brown-field projects. Prothea has a multidisciplinary team, comprised of members with investment banking expertise as well as experts in valuations, structuring and executing M&A transactions and in arranging project financing. Since its establishment in 2008, Prothea has originated and structured projects for an aggregate asset value in excess of €200 million.
Lennox (www.Lennoxpartners.com) is an independent Corporate Finance advisory firm with a focus on renewables, infrastructure and energy. Established in 2009 and headquartered in London, Lennox is authorised and regulated by Financial Conduct Authority.Lennox adopts a hands-on approach to transactions and by drawing on decades of experience in Corporate and Structured Finance advisory, investing and asset management, Lennox provides its clients with objective advice of the highest standard on acquisitions, disposals and capital raisings. Lennox has an excellent track record working with numerous blue chip clients including, Asset Managers, Corporates, Institutional Investors and Project Developers.
Featured Product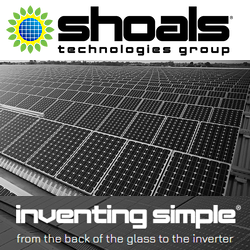 Inventing Simple® isn't just a slogan to us, it's a way of life. Using simple plug-and-play ideology, we revolutionized solar installations in 2003 with our Interconnect System™. Our harnessing system is now the gold standard EPC's use around the world. By using simple ideas, we are making solar energy a more affordable and clean power source for future generations.